Basket capacity is 3.5L, pan capacity is 4.3L (Normal Air fryer is 2.6L smaller ) 360°Full Circulation Rapid Tech A Healthier Life With 75% Less Calories : air fryer can cook a variety of dishes including: fries, potato gratin, steak, pork chops, hamburgers, drumsticks, spring rolls, cakes with little to no oil Premium Durable Time & Temp Buttons: no matter how long you use, the scale number will never be blurred. Adjustable thermostat contral temperature, 80-200?, easy to operate, making fries, chips, pork, chicken, steak, shrimp, cake, fish, and pizza Ensure Your Safety: safe release button to prevent the basket separating from the drawer from causing burns. With overheat protection, do not worry about power damage. with light indicator, 30 mins automatic shut off, and there are four non-slid feet design for safety Dishwasher Safe : detachable non-stick FDA-certified, PFOA free drawer and basket are apply to dishwasher safe clean 2 Years Warranty by Aicook Malaysia -Due to the good quality of product, we're confident to offer 24-months quality warranty for manufacture defects. 100% certified by SIRIM
---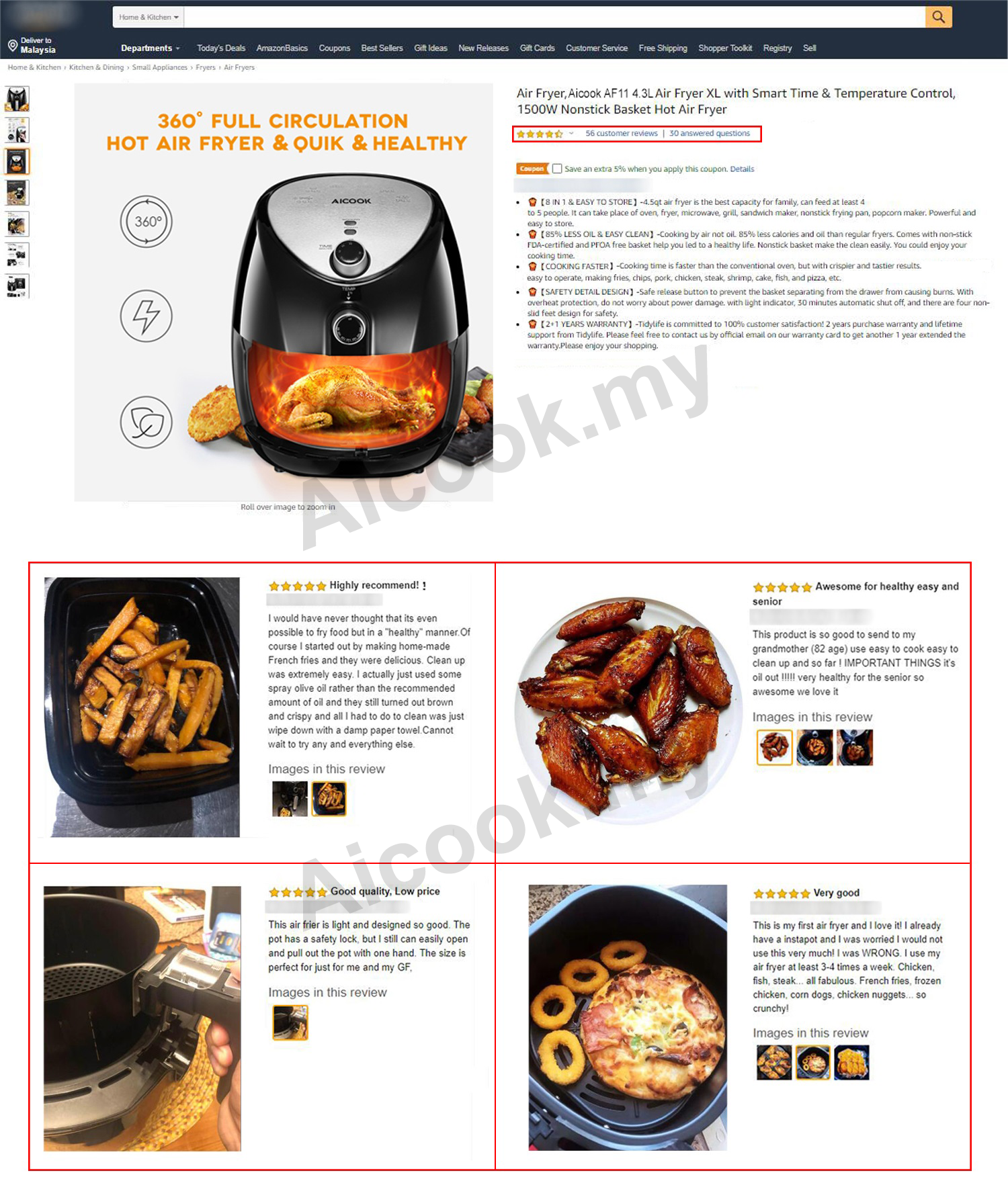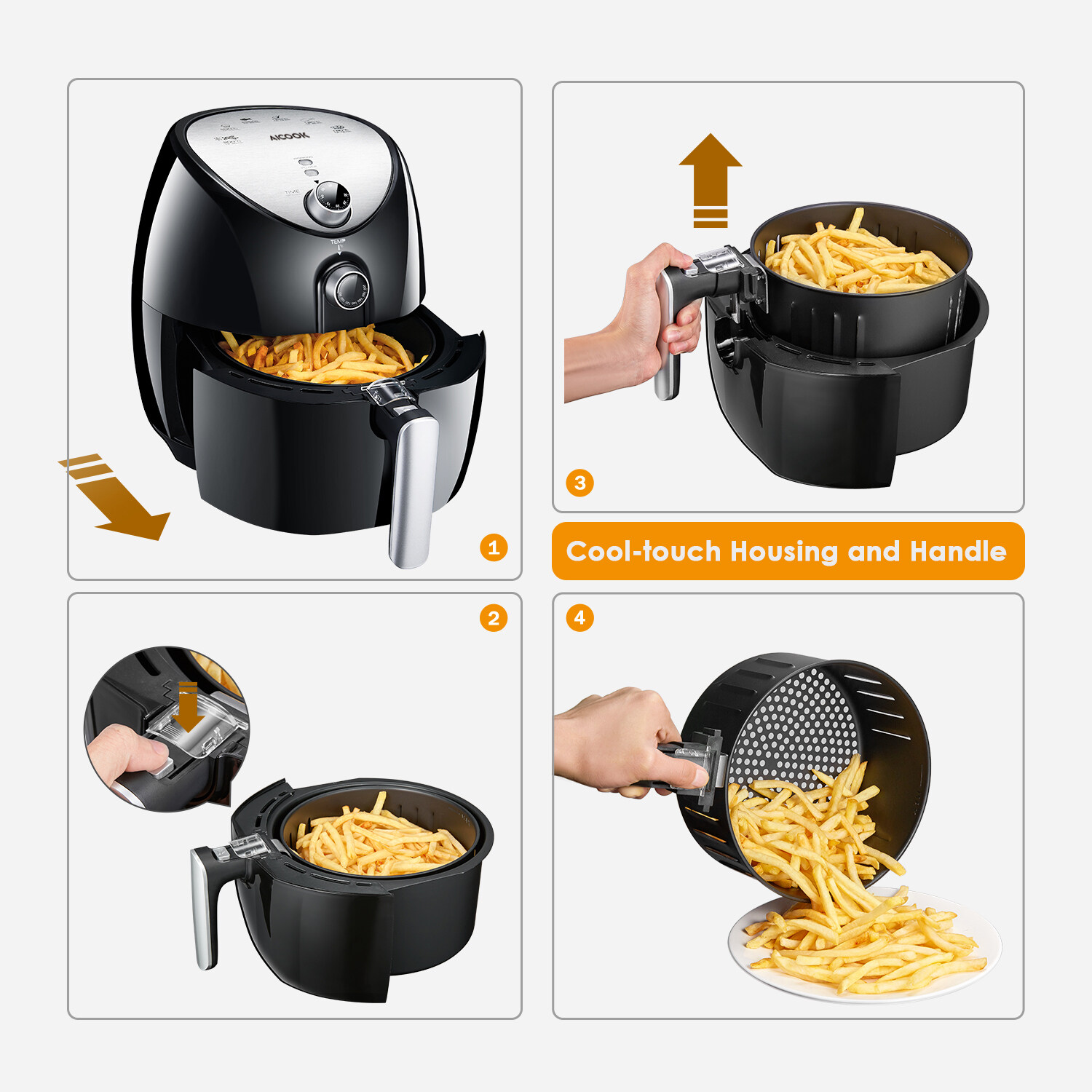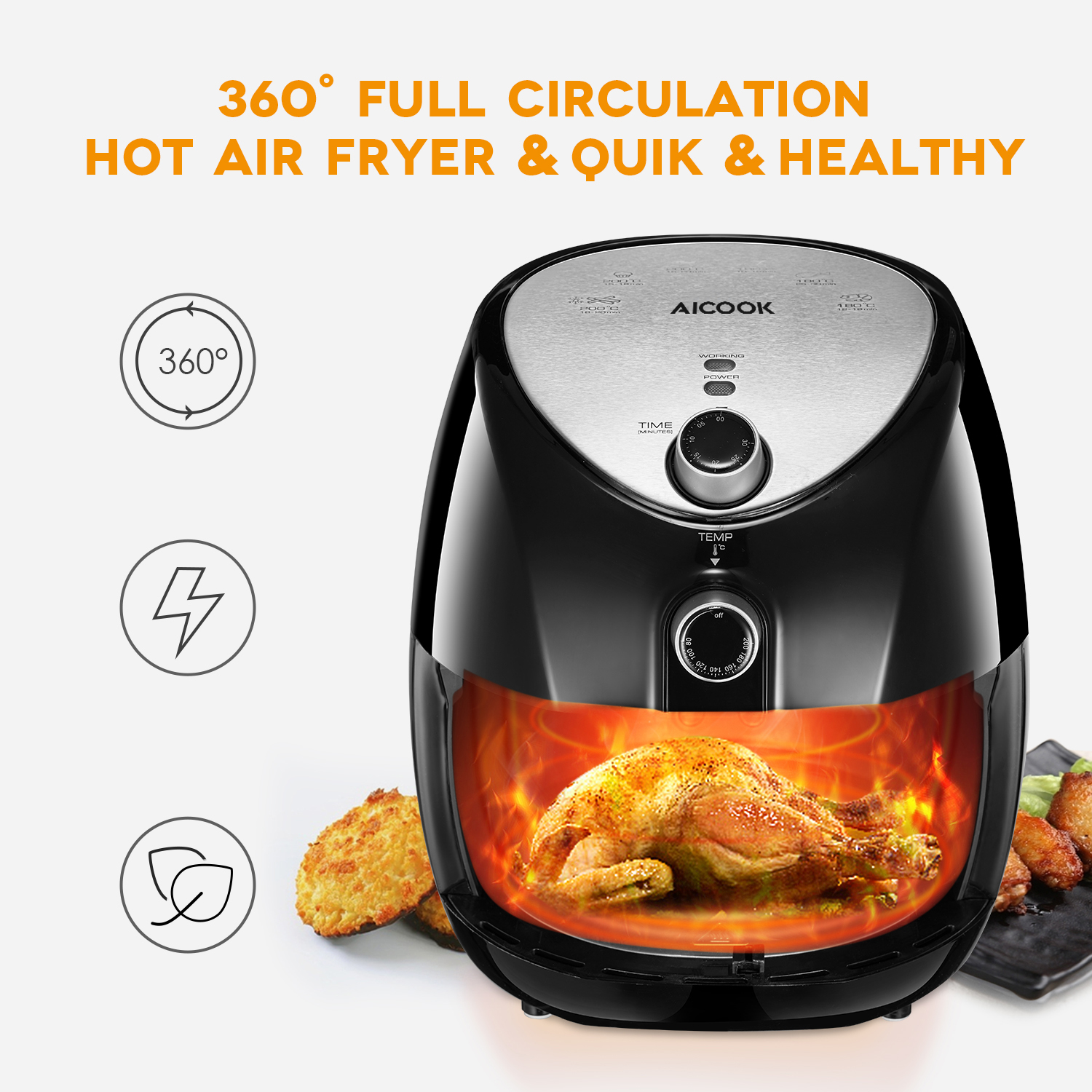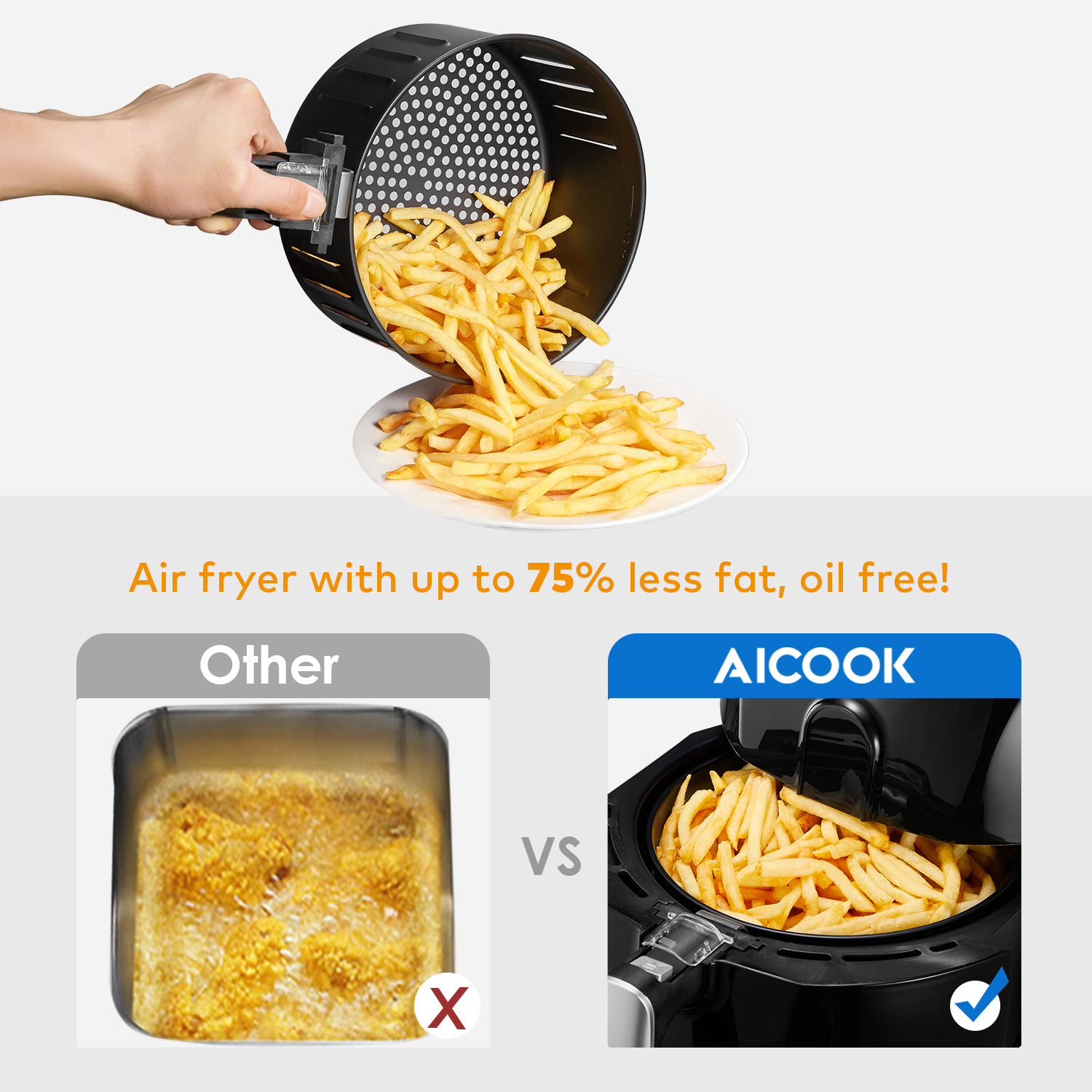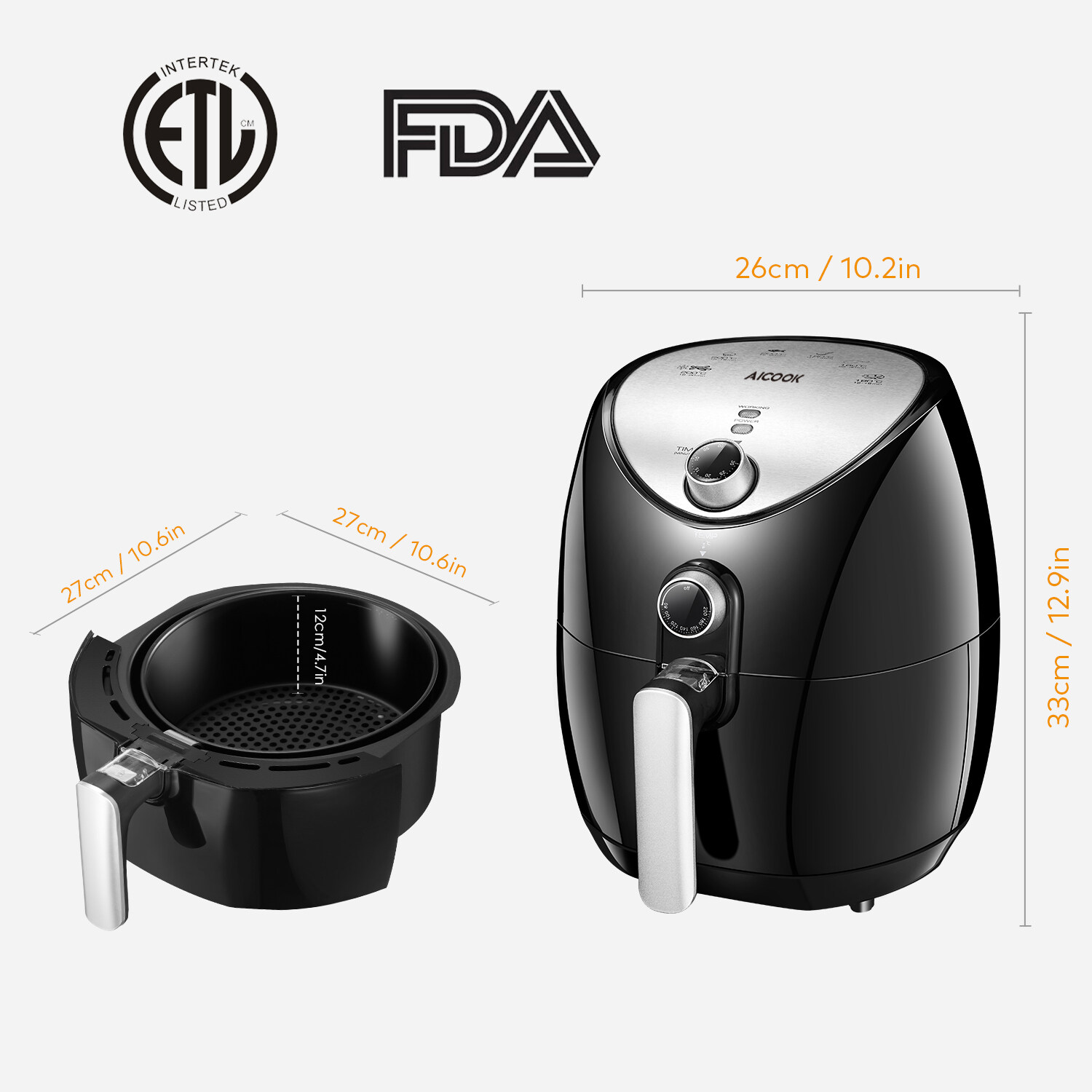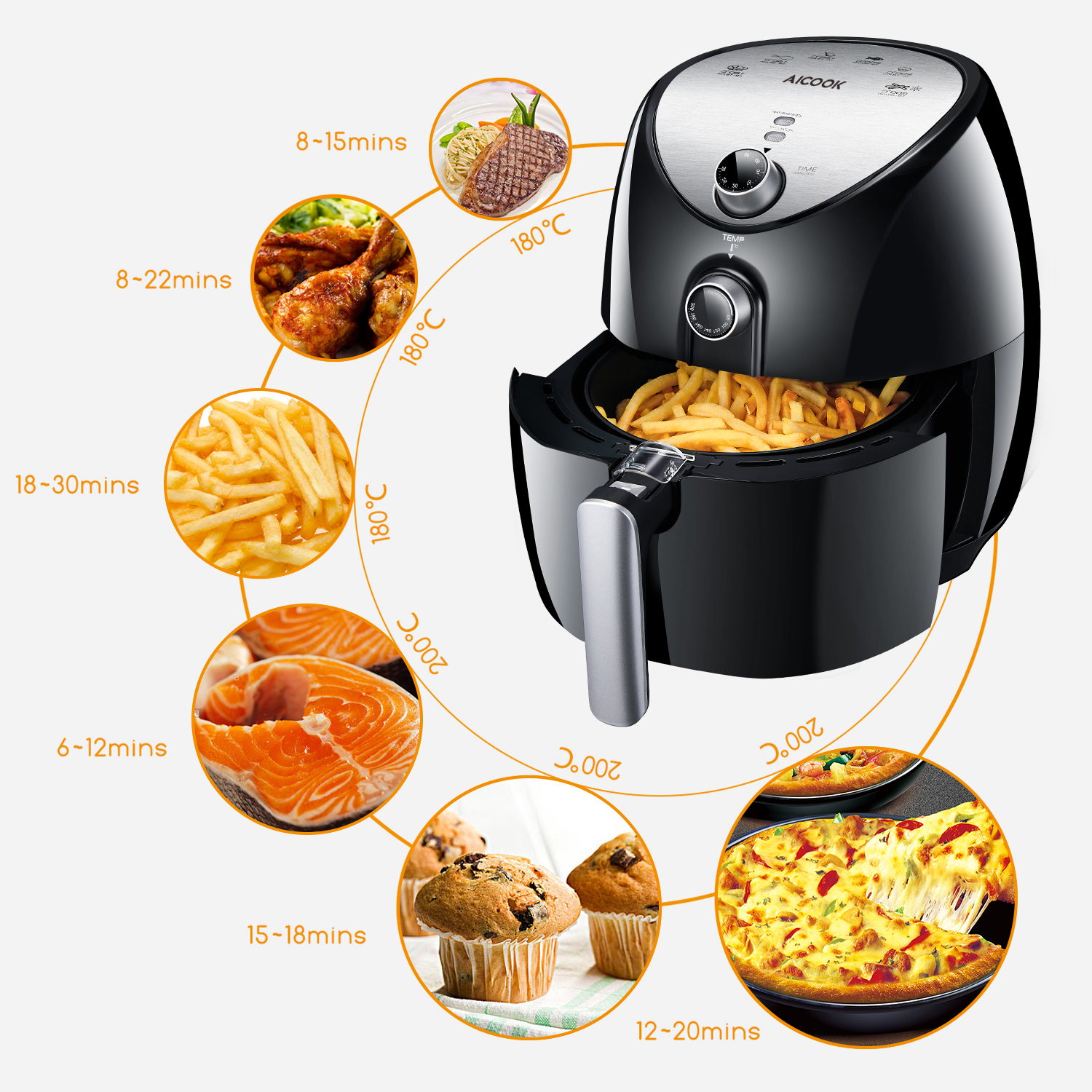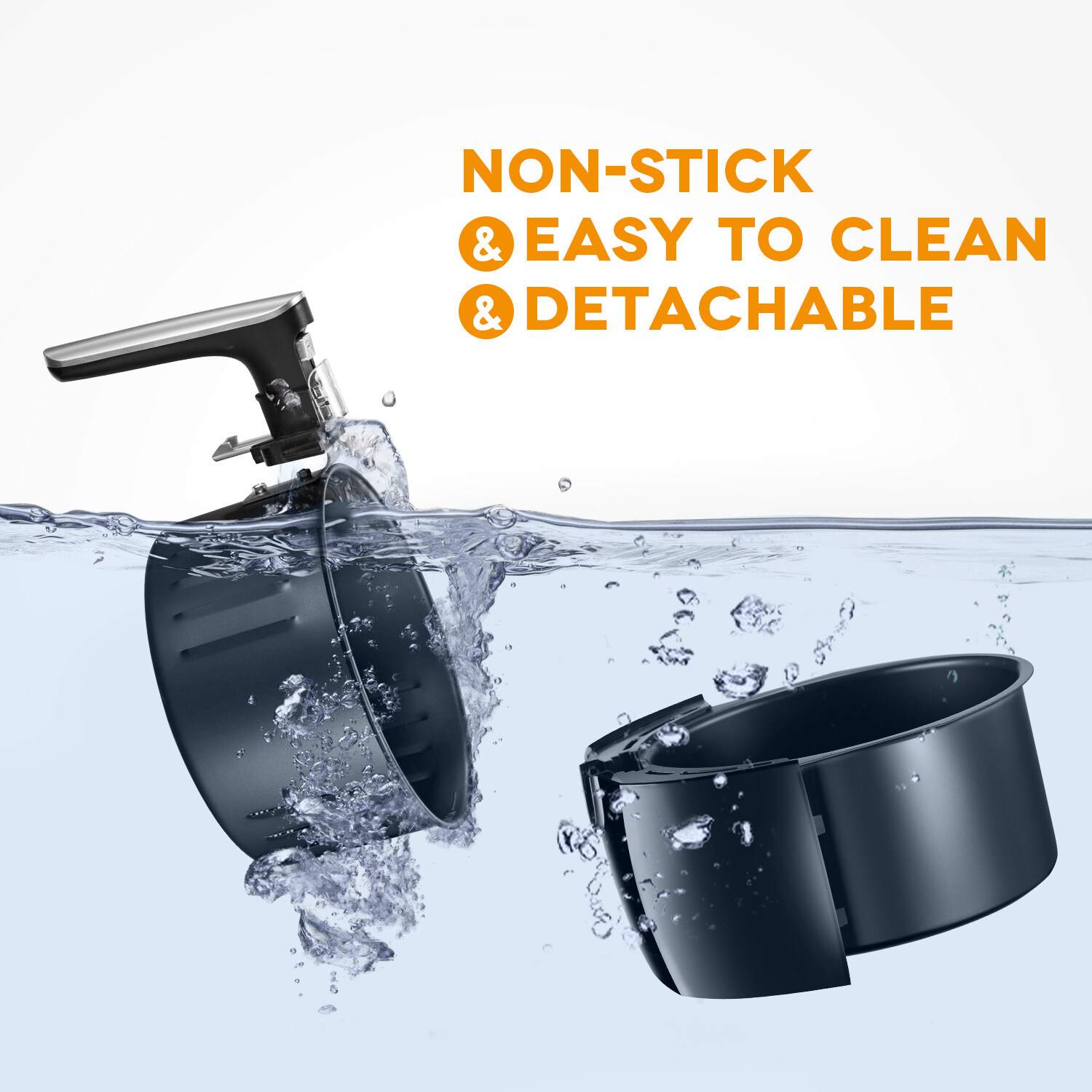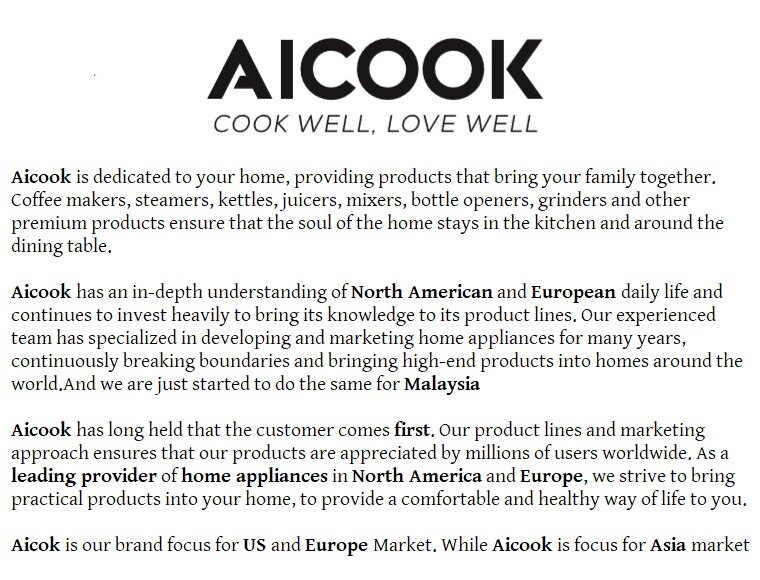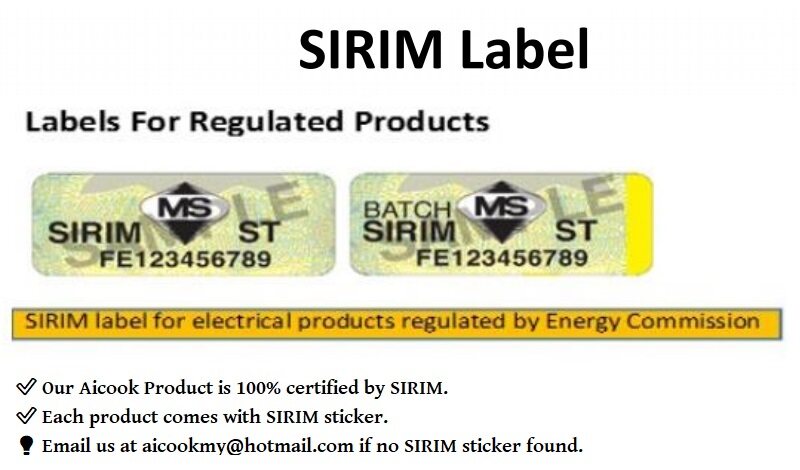 Air-Frying is perhaps one of the healthiest options. We all love the taste of deep fried foods, but not the calorias or the mess of cooking with so much oil. The Aicook Airfryer provides a new and healthy alternative to traditional deep frying. It makes fries and fried snacks deliciously crispy in a healthy way. The Aicook Airfryer was created to solve this dilemma as its unique design lets you fry food with just a tablespoon or two of oil and drains excess fat from food while cooking.
The Benefits of Air Fryer
Makes evenly cooked, crispy food in 30% less time than a conventional oven.

Smaller footprint and shorter frame that don't hog counters or obstruct cabinets.

Pull-out cooking drawer and concealed heating element to minimize the risk of burning yourself.

Surface and handle that stay cool to the touch.

Automatically stops cooking when timer ends.

Nonstick surface can be cleaned effortlessly.
Features :
A Healthier Life With 75% Less Calories :

air fryer can cook a variety of dishes including: fries, potato gratin, steak, pork chops, hamburgers, drumsticks, spring rolls, cakes with little to no oil

Premium Durable Time & Temp Buttons

: no matter how long you use, the scale number will never be blurred. Adjustable thermostat contral temperature, 80-200°C, easy to operate, making fries, chips, pork, chicken, steak, shrimp, cake, fish, and pizza

Ensure Your Safety:

safe release button to prevent the basket separating from the drawer from causing burns. With overheat protection, do not worry about power damage. with light indicator, 30 mins automatic shut off, and there are four non-slid feet design for safety

Dishwasher Safe :

detachable non-stick FDA-certified, PFOA free drawer and basket are apply to dishwasher safe clean

2 Years Warranty by Aicook Malaysia

-Due to the good quality of product, we're confident to offer 24-months quality warranty for manufacture defects.

100% certified by SIRIM
Specification :
Brand : Aicook
Model : AF11
Capacity: 4.3 Liters Pan size , 3.5L Basket size
Power : 1500W
Product Size : 34.3 x 28.7 x 31.8cm
Product Weight : 5.72kg
Plug: Malaysia 3 Pin Plug
Warranty : 2 Years Warranty by Aicook Malaysia for manufacture defects.
* For enquiry and warranty claim, please email support@aicook.my