Product Specification
Category
: Electronics Accessories > Gaming Accessories > Audio / Video Cable
Brand
: Not Specified
Model
: Not Specified
SKU
: AKGRECORDINGPACKAGE
Dimension (Length x Width x Height)
: 8.00 x 25.00 x 30.00
Weight(KG)
: 3.00
Manufacturing Country
: Not Specified
Warranty Type
: No Warranty
Warranty Value
: -
Warranty Description
: -
Ship From
: Kuala Lumpur
---
Product Description

QUALITY RECORDING STARTING TODAY!
AKG D5 Dynamic Microphone + AKG K44 Headphone + Lexicon Alpha Recording Interface
AKG D5 - Cuts through the
The D5 professional dynamic vocal microphone for lead and backing vocals delivers a powerful sound even on the noisiest stage. Its frequency-independent supercardioid polar pattern ensures maximum gain before feedback. The D5 stands for a crisp sound that cuts through every mix. The dual shock mount eliminates any kind of mechanical noise for trouble-free live use. The audience will hear the pristine sound of your voice! The D5 S has the same mechanical, electrical, and acoustic characteristics as the D5 and features a noiseless on/off switch.
Features at a Glance:
Audio frequency bandwitdh 70-20000 Hz
Sensitivity 2.6 mV/Pa
Electrical impedance 600 Ohms
Gender Male
Contacts 3-pin
Polar Pattern - Supercardioid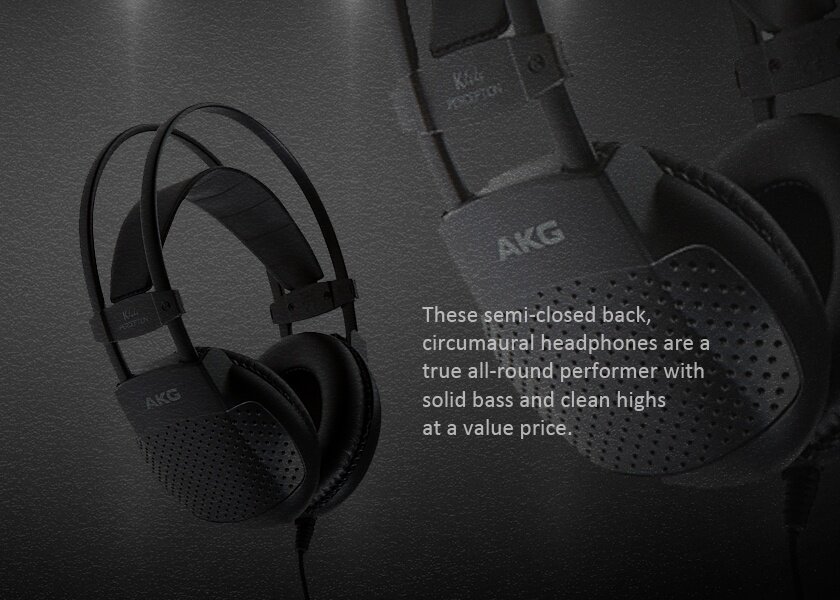 AKG K44 Professional hi-fi stereo headphones designed for critical listening.
The latest version of the AKG K-44 MKII features Varimotion technology and XXL transducers. Specially designed for home recording and project studios these affordable headphones are ideal for countless applications. The AKG K-44 MKII headphones are circumaural with closed-backs and are versatile performers with pure bass and clear highs. Easy cleaning leatherette ear pads and gimble suspension with a self-adjusting headband promise easy wearing comfort. AKG K-44 MKII headphones have a 3.5/6.3mm stereo adapter to suit the professional and semi-professional alike.
FEATURES
Semi-closed back, circumaural design
Self-adjusting headband for optimum fit
Patented Varimotion speakers
Leatherette ear pads and velvet ear pads

Lexicon Alpha Overview
The Alpha Studio from Lexicon is extremely compact, desktop recording studio that includes a USB powered I/O mixer/interface with Cubase LE recording software from Steinberg and the Lexicon Pantheon VST reverb plug-in. The interface has four inputs, with two channel recording and playback. A separate headphone output provides the freedom to not only record but also mix anywhere.

Steinberg's Cubase LE production suite software for PC and Mac computers offers integrated multi-track recording, editing and mixing of up to forty-eight audio tracks, sixty-four MIDI tracks (interface has no MIDI I/O,) VST instruments and plug-in support and an array of additional features. Lexicon's Pantheon VST reverb plug-in delivers lush Lexicon reverbs that have been used on professional recordings for over thirty years.
Alternatively, the Lexicon Alpha Studio may be used as an interface with almost any other major audio recording software such as Steinberg Nuendo, Cubase SX, MOTU Digital Performer, GarageBand, Cakewalk Sonar and many others.
Desktop recording system with USB interface and bundled software
Low-noise microphone preamp with balanced XLR input (no phantom power)
Stereo line inputs for keyboards, drum machines or analog output of a CD/MP3 player
High-impedance front panel input for electric guitar or bass
Separate microphone and line level input controls with individual peak indicators
Monitor mix control for balancing an audio source between live input and playback mix level while recording. Can be switched to stereo or mono
High-powered headphone amp offers ultra-clear fidelity while delivering ample power for any type of headphones
Cubase LE software with Lexicon Pantheon reverb plug-in included
USB bus powered
Feel free to whataspp us at 018-230 4358
1xAKG Recording Package Best Deal