Tajuk : Perubatan Al-Quran Rawatan Kanser
Penerbit : Must Read Sdn Bhd
ISBN : 9789672250807
Penulis : Haji Lokman Abdul Hamid
Halaman : 304 muka surat
Berat : 300 gram
Sinopsis:
Siri buku Perubatan AL Quran membuktikan betapa mujarabnya ayat-ayat Al Quran dalam merawat penyakit. Jika siri pertama berkisarkan penyakit kanser, siri kedua pula tampil dengan isu berkenaan 16 penyakit kronik yang sering dialami oleh rakyat Malaysia. Antaranya ialah penyakit kencing manis, darah tinggi, jantung koronari dan strok.
Punca simptom dan langkah pencegahan dirungkai satu per satu dengan garapan gaya bahasa yang mudah difahami oleh golongan umum. Isu buku ini padat dengan kupasan bagaimana Al-Quran memiliki kuasa penyembuh yang tidak mampu dinafikan meskipun proses rawatan tersebut tidak dapat dibuktikan secara saintifik. Inilah anugerah bagi insan oleh Allah SWT. Selain kaedah perubatan Al_Quran, buku ini turut memaparkan kaedah perubatan moden dalam merawat penyakit kronik.
Percayalah, tiada yang mustahil dengan izin Allah SWT.
Siapa yang perlu memiliki buku ini :
Mereka yang sedang menghidapi penyakit kronik.

Mereka yang telah mencuba

rawatan perubatan moden

,

namun

tidak menemui kesembuhan

.

Mereka yang tidak kenal erti putus asa dalam ikhtiar untuk kembali sihat.

Mereka yang percaya

mukjizat Al-Quran sebagai penawar.

Mereka yang ingin

mengetahui

dan

membantu golongan pesakit ini.

Hadiah

kepada pesakit yang menghidapi penyakit kronik.
Buku ini juga sesuai untuk bacaan seisi keluarga yang ingin menambah ilmu pengetahuan tentang penyakit kronik dan cara-cara penyembuhan melalui perubatan al-Quran.
BIODATA PENULIS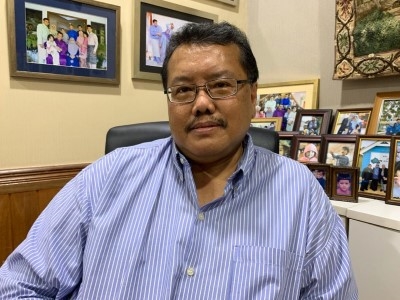 Haji Lokman bin Abdul Hamid dilahirkan pada 24 Disember 1959 di Singapura. Beliau berumur 62 tahun. Beliau berkelulusan Ijazah Muda Pengurusan Perniagaan dari University of Athens, Ohio USA dan Ijazah Sarjana dalam bidang kewangan dari University of New Heaven, Connecticut USA.
Sejurus menamatkan pengajiannya pada tahun 1986, beliau pulang ke tanah air dan mula bertugas bersama Sarawak Shell Berhad dan jawatan yg terakhir di sana sebagai Head Recruitment. Seterusnya, beliau berkhidmat bersama Suruhanjaya Sekuriti Malaysia sejak tahun 1994 sehinggalah tahun 2010 dan memegang jawatan terakhir di sana sebagai Deputy General Manager .
Ramai yang memanggil beliau "ustaz". Namun, ramai yang tidak mengetahui bahawa Tuan Haji Lokman bukanlah daripada aliran keagamaan, malah tidak pernah mendapat pendidikan pondok atau pendidikan agama formal yang lain. Haji Lokman melibatkan diri dalam perubatan Islam sejak beliau berusia 40 tahun setelah mendapat hidayah daripada Allah SWT, hasil daripada pencarian beliau kepada kebenaran ketika usianya lewat 30-an.
Sewaktu mula menceburi bidang perubatan ini, beliau masih lagi bekerja di Suruhanjaya Sekuriti Malaysia. Beliau merawat pesakit pada waktu malam selepas pulang dari kerja. Beliau merawat di kediamannya di Bukit Antarabangsa sehinggalah berjaya membuka sebuah klinik di Sungai Pusu, Gombak pada November 2006. Selama 10 tahun beliau merawat pesakit tanpa meletakkan sebarang harga. Sebaliknya, beliau hanya meletakkan tabung kebajikan. Para pesakit boleh menderma dengan ikhlas untuk tujuan kerja-kerja kebajikan. Ketika itu, pendapatan beliau bergantung kepada posisinya di Suruhanjaya Sekuriti Malaysia.
Pada tahun 2011, Haji Lokman mula serius dalam dunia perubatan Islam ini. Beliau meletakkan jawatan di Suruhanjaya Sekuriti Malaysia dan menubuhkan sebuah klinik, Pusat Rawatan Al-Hidayah yang terletak di Setiawangsa, Kuala Lumpur yang mula beroperasi pada Februari 2012. Misi utama penubuhannya adalah untuk memartabatkan penggunaan ayat-ayat al- Quran dalam ilmu perubatan, setanding dengan perubatan moden.
Pada September 2016, Pusat Rawatan Al-Hidayah telah berpindah ke premis sendiri di Pusat Perdagangan Selasih di Batu Caves, Selangor. Alhamdulillah syukur kepada Allah SWT.
Haji Lokman juga pernah dijemput mengisi slot-slot di televisyen seperti rancangan dokumentari bertajuk Penawar Syifa sebanyak 13 episod di Astro Oasis yang disiarkan dari Disember 2009 hingga penghujung tahun 2010. Beliau pernah menjadi hos kepada program siaran langsung dalam Segmen Syifa melalui rancangan TV9, Nasi Lemak Kopi 'O' pada setiap pagi Jumaat sepanjang tahun 2011.
Pada bulan Oktober 2012, Haji Lokman telah ditawarkan akhbar tempatan Utusan Malaysia untuk mengendalikan ruangan Perubatan Islam . Ia dipaparkan dalam segmen Panca Sihat setiap hari Ahad menerusi Mingguan Malaysia. Ruangan soal jawab ini mengisahkan kaedah-kaedah rawatan secara Islam untuk penyakit rohani dan jasmani. Melalui paparan ini, beliau berharap agar dapat mendakwahkan lagu mukjizat al-Quran dalam aspek perubatan kepada orang awam.
Hasil sumbangan dari kutipan derma dari para pesakit di Pusat Rawatan Al Hidayah dan tanah wakaf daripada seorang pesakit, beliau telah membangunkan sebuah kompleks tahfiz di atas tanah luas 4 ekar di Janda Baik, Pahang. Maahad Tahfiz Al Hidayah (MATAH) ini mula beroperasi pada tahun Januari 2013 dengan hanya 8 orang pelajar dan sekarang hampir 120 orang pelajar.
Silibus yang diajar merangkumi akademik, hafazan dan kokurikulum. Perlaksanaan pelajaran akademik berasaskan silibus Kementerian Pelajaran Malaysia bermula dari tingkatan 1 hingga tingkatan 5. Sehingga kini MATAH telah berjaya melahirkan 30 orang huffaz sejak penubuhannya, dan melahirkan hampir 40 orang alumni yg cemerlang dalam peperiksaan SPM.
Selain itu, beliau juga mengendalikan pakej umrah untuk orang ramai dan pesakit-pesakit Pusat Rawatan Al-Hidayah. Antara keistimewaan pakej Pusat Rawatan Al-Hidayah ini ialah membuat rawatan di dataran Kaabah di dalam Masjidil Haram. Para jemaah dipimpin oleh beliau sendiri untuk melakukan tawaf sunat dan juga bersama-sama berdoa dan solat sunat di tempat-tempat mustajab seperti di depan Multazam, di dalam Hijr Ismail, di belakang makam Ibrahim dan di Raudhah. Bagi Haji Lokman, hidup ini serba ringkas. Niat dan doa merupakan aspek terpenting dalam setiap usaha.
Beliau juga memiliki sebuah restoran yg bernama Dapur Petum yg terletak di premis yg sama di Taman Selaseh di Batu Caves. Nama "Petum" adalah nama arwah ibu beliau yg meninggal dunia pada tahun 2013 dalam usia beliau genap 100 tahun. Restoran ini menyediakan selera masakan kampong dan juga katering untuk majlis keraian.
Fokus, tekun dan komitmen adalah resipi utama kejayaan dalam hidup seseorang. Latar belakang keluarga, Haji Lokman berkahwin dengan Puan Hajah Norma Muhammad pada tahun 1984 dan dikurniakan dua orang puteri dan tiga orang putera. Anak sulung mereka, Dr. Noor Alia adalah graduan doktor falsafah dalam bidang penyelidikan mengenai kanser ovari dari University Of Adelaide. Beliau kini berkhidmat di Robinson Institute, Universiti of Adelaide. Manakala anak kedua mereka, Dr. Noor Dayana, lulusan Manipal University di India pula bertugas sebagai seorang pegawai perubatan di klinik kesihatan di Setiawangsa, Kuala Lumpur. Putera sulung mereka, Adi Ikmal, graduan dalam bidang Automative Engineering dari Malaysia French Institute (MFI) dan kini bertugas di BHP Shared Services Sdn. Bhd. Anak keempat, Dani Aizat ialah graduan dalam bidang arkitek dari Universiti Teknologi Malaysia dan sedang bertugas sebagai arkitek di sebuah syarikat swasta. Putera bongsu mereka, Dhiya Aiman sedang menuntut dalam bidang Pengurusan Perniagaan di Universiti Kebangsaan Malaysia.
Haji Lokman juga mempunyai dua orang cucu, seorang cucu perempuan yang bernama Arissa Sofea binti Adi Ikmal berumur 6 tahun, dan seorang cucu lelaki yang diberi nama Anas Ashraff bin Mohd Ashraff berumur 5 tahun.
Cita-cita Haji Lokman pada masa hadapan adalah ingin membangunkan sebuah hospital berteraskan integrasi berubatan moden dan Islam pada suatu hari nanti. Insya-Allah, semoga Allah SWT memakbulkan cita-cita murni beliau ini.
16 PENYAKIT KRONIK dibincangkan dalam buku ini.
1. KENCING MANIS
2. DARAH TINGGI (HIPERTENSI)
3. JANTUNG KORONARI
4. STROK (ANGIN AHMAR)
5. HEPATITIS
6. PROSTAT BENGKAK
7. LEMAH TENAGA BATIN
8. NYANYUK (DEMENSIA)
9. RESDUNG
10. SAWAN (EPILEPSI)
11. SLIPPED DISCS (CAKERA GELINCIR)
12. JANTUNG BERLUBANG
13. GASTRIK
14. BATU KARANG
15. SISTEM LUPUS ERYTHEMATOSIS (SLE)
16. RADANG SENDI (ARTRITIS)