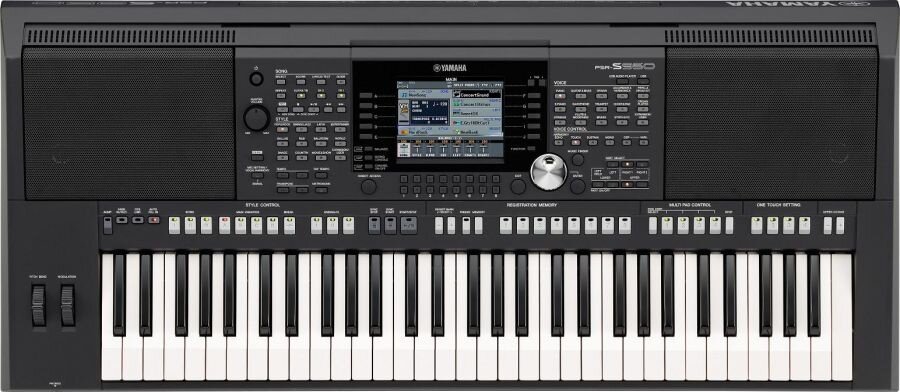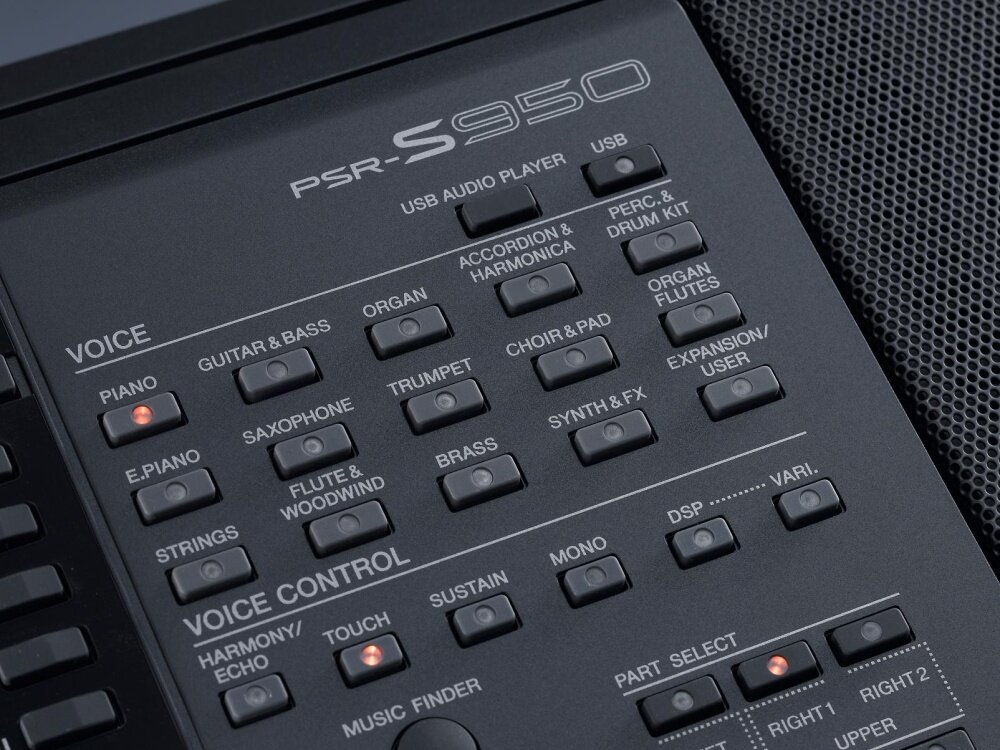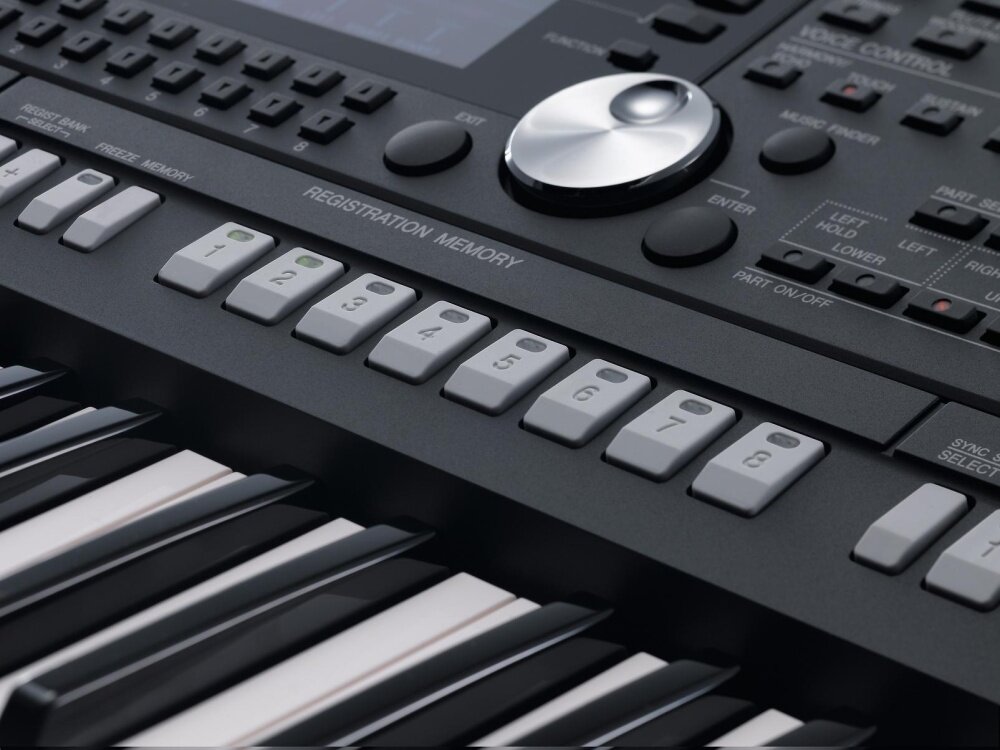 KEY BENEFITS COMPARED TO OTHER PRODUCTS
Imagine you had a band on call, who are always set up and ready to play any style of music at a moment's notice, whenever and whereever you wanted them.The PSR-S950 gives you that power. Audio Styles combine the flexibility, versatility and ease-of-use of Yamaha's acclaimed backing styles with high-definition recordings of some of the world's best session musicians across a range of genres. Put together with top-quality sounds and voices inherited from the flagship Tyros line, keys players have never sounded so good.
The PSR-S950 workstation keyboard effectively blurs the line between digital and acoustic sound and the result will change your musical perceptions forever. We've recorded professional musicians to achieve authentic renditions of their instruments and playing nuances and now you can play alongside them. The PSR-S950's other incredible features—including Vocal Harmony 2 and Super Articulation for thrilling instrumental and vocal support—will add a whole new perspective to your creativity.
Just play to experience increibly realistic and expressive sound
Acoustic instrument articulations, nuances and dynamics are challenging to reproduce. As the world's largest musical instrument manufacturer, Yamaha has perfected both the science and art of this process to bring you the most sophisticated, musical-sounding and easy-to-play instrument Voices.
Super Articulation (SA) voices
Super Articulation voices reproduce the performance characteristics of acoustic instruments so authentically, you'll feel as if you're playing the real thing. Best of all, SA voices intelligently add the right expressive nuances to your performance without having to learn complicated control techniques - just play!
Mega Voice style technology
Mega Voices feature various playing techniques and performance sounds like guitar and bass finger slides, brass falls, vocal effects, etc. When used in Styles, Mega Voices provide some of the most realistic sounding and dynamic accompaniments.
Powerful, pro-quality accompaniment available at the touch of a button
Playing a style is like being the conductor of a band that always plays the chords and arrangements you tell them to play. The PSR-S950 has a huge collection of 408 built-in dynamic styles. Yamaha styles are created by the world's best programmers and mixed by professional studio engineers to ensure unparalleled quality.
Audio Styles
Audio Styles take one step further by adding an audio recording of studio drummers, percussionists and percussion ensembles playing in various studios around the world. This adds the natural feel, ambience and warmth to the drum and percussion parts of the style, giving your performance greater expressive potential. Yamaha Time Stretch Technology allows the audio to follow your tempo changes without changing pitch, so everything stays in perfect sync.
Guitar-Enhanced Styles with Mega Voices
Guitar-Enhanced Styles not only reproduce the sound of guitar playing, they reproduce the actual chord voicings used by guitar players. This adds to the overall realism of the style.
Vocal features create new levels of entertainment and productivity
Whether you sing for fun, enjoy karaoke or are a singer/songwriter, the PSR-S950 provides everything you need to perform or write. Just plug in your mic and sing!
Specs
Number of Keys 61
Type Organ
Touch Response Hard 2, Hard 1, Medium, Soft 1, Soft 2
Other controllers Pitch Bend Yes
Modulation Yes
Multi Pads 126 banks x 4 Pads
Display Type Color LCD
Size 5.7 inch (320x240 dots TFT QVGA)
Color Color
Language English, German, French, Spanish, Italian
Weight 11.5kg
Tone Generation Tone Generating Technology AWM Stereo Sampling
Polyphony Number of Polyphony (Max.) 128
Preset Number of Voices 786 Voices + 33 Drum/SFX Kits + 480 XG Voices + GM2 + GS (for song playback)
Featured Voices 62 Super Articulation Voices, 23 Mega Voices, 27 Sweet! Voices, 64 Cool! Voices, 39 Live! Voices, 20 Organ Flutes!
Expandability Expansion Voice Yes (approx. 64 MB max.)
Editing Voice Set
Part Right 1, Right 2, Left
Compatibility XG, XF, GS, GM, GM2
Types Reverb 44 Presets + 3 User
Chorus 106 Presets + 3 User
DSP DSP 1: 295 Presets + 3 User, DSP 2-4: 295 Presets + 10 User
Master EQ 5 Presets + 2 User
Part EQ 28 Parts (Right 1, Right 2, Left, Multi Pad, Style x 8, Song x 16)Mic Effects Noise Gate x 1, Compressor x 1, 3
Band EQ x 1
Vocal Harmony Number of Presets 44
Number of User Settings 10
Vocal Effect 23
1xKeyboard Stand 1xKeyboard Stand