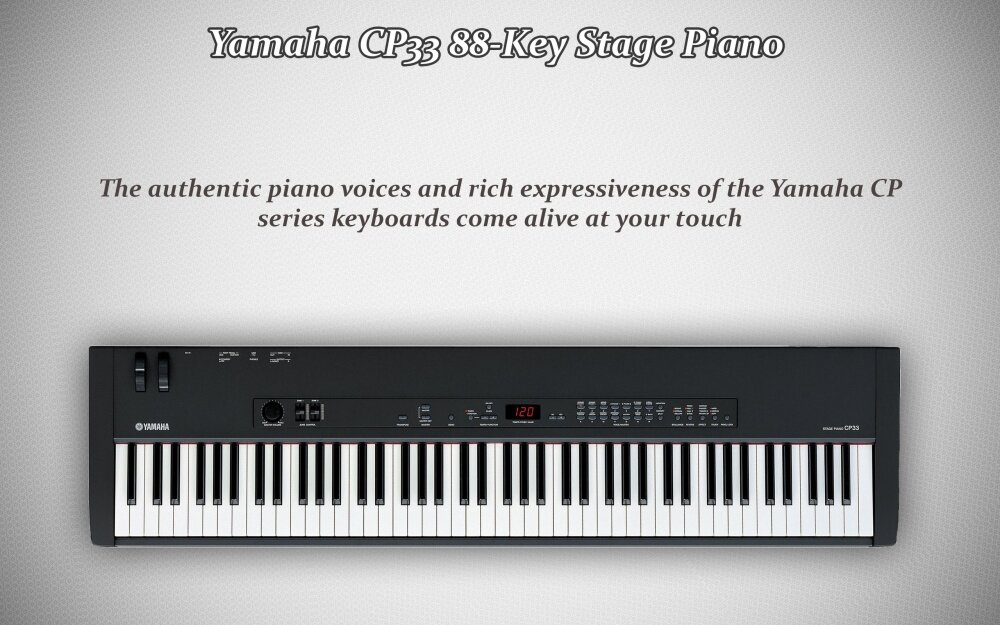 The Yamaha CP33 Stage Piano is a fantastic instrument, especially for its modest price. It boasts 88 weighted keys with graded hammer-effect, 28 voices including 3-layer piano samples, sustain half-pedaling, and two effects processors. It has MIDI in/out and USB for computer connectivity, and 64-voice polyphony.

Made to be played
The authentic piano voices and rich expressiveness of the Yamaha CP series keyboards come alive at your touch, and the sound is big enough to blast through a full band onstage"yet nuanced enough to work magic in an intimate club.
Expressive power
Yamaha's extensive experience in crafting fine acoustic pianos was key in creating the ultimate digital pianos. Yamaha's advanced Graded Hammer Effect (GHE) action gives all keys an authentic resistance that increases from the top register to the lower"just as on an actual acoustic piano. Which means that you can naturally pound out thunderous low notes with your left hand and let the fingers on your right dance and fly with the high notes. This 88-key keyboard practically plays itself, working with you"not against you"and brings out the very best in your performance.
Sound choice
Crafting the authentic sound of the Yamaha CP-33 keyboard involved extraordinary attention to detail. Yamaha used meticulously recorded stereo samples of top-quality instruments, taken at various playing strengths, and included subtle elements such as Stereo Sustain (open strings while pedaling), and even Key-Off Samples (recordings of felt dampers coming to rest on vibrating piano strings)"providing the most authentic-sounding and finely nuanced acoustic piano voices possible. There's also a wide variety of other dynamic sounds, including vintage electric piano, organ, guitar, strings, and much more.
Stay in control
As master keyboard controllers, the CP-33 stage piano lets you take command of your gear. Play and control external synthesizers and tone generators (such as the MOTIF-RACK ES) during your performance. Assign different internal voices to different sections of the keyboard or even create complex, multi-textured layers of sound. There are 2 instrument Zones on the Yamaha CP-33 keyboard, with dedicated Zone sliders on the panel that let you easily tweak the level of each instrument as you play. You can also freely reassign the sliders and wheels to control other sonic characteristics of the connected gear as desired, such as sound attack, decay, brightness, and filter cutoff.
Take center stage
Step out front and make your presence known. The CP-33 piano keyboard has a special Mono Piano sound, complete with a compression effect, designed specifically for live performance. It has the punch and power to stand out, even in full band situations.
Lock it up
Onstage, you need to make sure everything goes smoothly. Sometimes an errant hand (yours or someone else's) can touch the panel controls and change your special settings, giving you a rude surprise in the middle of your performance. The Panel Lock button lets you prevent that, keeping all settings fixed and secure, until you're ready to change them yourself.
A light and compact piano keyboard
Despite its full 88-key keyboard, realistic grand piano sound and extensive features, the Yamaha CP-33 is exceptionally compact, light, and portable. It goes wherever you go, sets up anywhere you need, and gives you complete piano performance everywhere you play.
Pedal to the metal
The Yamaha CP keyboards give you the same pedal control as an actual grand piano. The CP-33 has Sustain Pedal and AUX jacks (which can be configured as Soft or Sostenuto, or even Expression). On certain piano sounds, Sustain can be partially applied"reproducing the "half-damper" effect of slightly muting the resonating strings on a real piano.
88 keys with graded hammer effect weighted action
64-note polyphony (max.)
3-layer piano samples with Dynamic Stereo Sampling
Samples for key-off, sustain pedal, and string resonance
Sustain half-pedaling
28 panel voices
2-zone dual and split voice modes with 2 control sliders
2 effects processors
Pitch bend and modulation wheels
Metronome
48-character LCD display
MIDI in/outUSB for computer connectivity
Headphone jack
Stereo 1/4" outputs
Aux pedal input
1xKeyboard Stand 1xKeyboard Stand