Product Description
At a Glance
The new super slim PS3 is smaller than ever before, 25% smaller than the previous slim design! Take yourself on a journey today with High Definition games, movies, music videos, catch-up TV and so much more. Find out how PlayStation 3 delivers something for everyone.

The best games – HD gaming on the big screen. All the latest and greatest titles are available, including the PS3 Essentials range.

Free online gaming – Play games with your friends at no extra cost on the PlayStation Network.

Catch up TV – ITV Player, BBC iPlayer and 4OD for the best TV you might have missed.

On Demand Movies – Purchase or rent the latest SD or HD movies from the PlayStation Video store or stream through LoveFilm or Netflix.

Great accessories – Official PlayStation accessories ensure you experience the best from your console.
Welcome PlayStation 3 into your Home
Find out how PlayStation 3 will keep your whole family entertained for hours with fun-packed games, catch-up TV, movies, music and much, much more.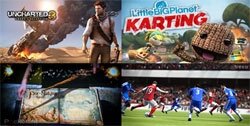 Games for everyone - Play games in stunning HD with PS3. From the likes of FIFA, Call of Duty and Uncharted to Little Big Planet, Zumba Fitness and Book of Spells, there is something for everyone.
PlayStation Network (PSN) - Play against your friends online for no extra cost. You can also download exclusive games, themes and additional features through PlayStation Network.
Enjoy catch-up TV - Stream your favourite TV shows from ITV Player, BBC iPlayer and 4OD.
Go to the movies with PS3 - Grab the popcorn and get set for a great night in with PlayStation 3. Purchase or rent the latest SD or HD movies from the PlayStation Video store or stream from a huge selection movies and TV series through LoveFilm or Netflix.
The PS3 had a built-in Blu-ray Disc and DVD player so you can watch your current collection in the good old traditional way as well!
PlayStation Plus - PlayStation Plus lets you play more and pay less – simply pay for a subscription to get an Instant Game Collection, full game trials, great discounts, exclusive access, automatic updates and much more. Other benefits include:
Up to 65 games per year
Money-saving discounts
Exclusive access
Online storage for game saves
Automatic software updates
Vita Heaven
Now the fun never has to stop. Start playing a game on your PlayStation 3 system, pause it, then pick it up on PS Vita right where you left off with cross-platform play. You can even join in multiplayer games on your PS Vita and play against players on their PS3 systems.
PlayStation Accessories (sold separately)
Make sure to grab an extra game pad for when your friends call round! Our Move controller and Camera let you experience motion controlled gaming so you can workout at home, or perfect your skiing technique. You may find a Blu-ray player remote control handy for rewinding those classic movie moments. An official PlayStation headset allows you talk to your friends in game or for gaming on the quiet.
Don't forget an HDMI cable to ensure you experience the High Definition goodness too!
In the Box
PS3 250GB Super Slim Console
Wireless DualShock 3 Controllers
AC power cord
AV cable