Product Specification
Category
: Kitchen & Dining > Cookware > Woks & Stir-Fry Pans
Brand
: Kitchen Tales
Model
: PCASTIRON
SKU
: PCASTIRON_rec15x39
Dimension (Length x Width x Height)
: 40.00 x 20.00 x 6.00
Weight(KG)
: 1.30
---
Product Description
• Keeps your food sizzling hot, straight from the oven to the table.
• Perfect for cooking on the stove top, oven or barbeque.
• Suitable for all cook tops gas, infrared, lceramic, radiant halogen, induction.
• Suitable for use in conventional and convection ovens up to 200%c.
• Cast iron is the choice of most chefs due to its excellent heat distribution and cooking capabilities.
• Uses less heat than other types of cookware.
• Pre heat your pan over a medium heat for about 90 seconds for optimum results.
• Hand wash only in warm water, rinse and dry completely then place on a warm element for a few seconds to remove any remaining moisture.
• Keep your cast iron in peak condition by applying thin coat of cooking oil on cooking surface before keeping.
• There's only one thing you shouldn't attempt in cast-iron cookware: boiling water which will cause the pan to rust.
• Cast iron takes longer to heat up than other surfaces but retains heat remarkably well and diffuses it evenly.
• Cast iron remains hot long after you remove it from the stove. As a reminder to be careful, drape a thick towel or a mitt over the handle.
• Cooking in cast iron increases the iron content in food. The longer the food is in contact with the skillet, the more it absorbs.
• Excellent source of nutritional iron. This vital mineral is crucial for maintaining energy levels, and it helps strengthen immune systems.
---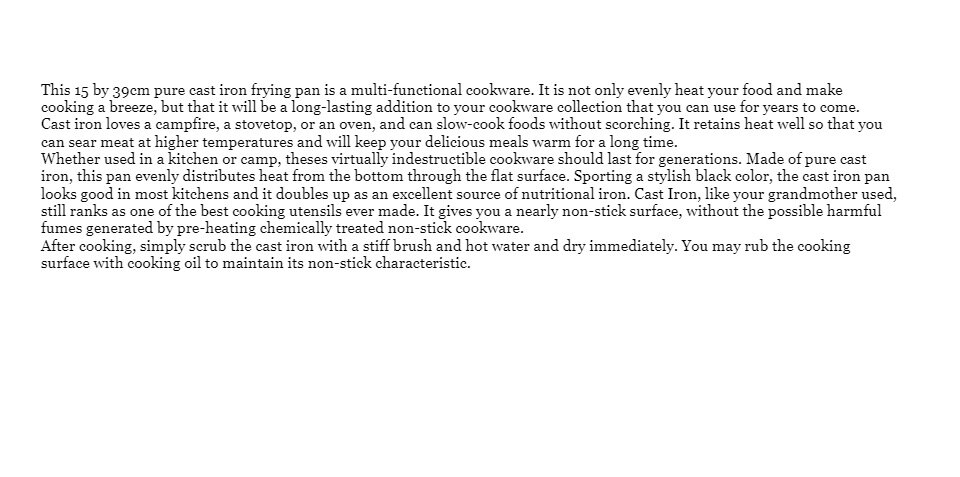 ---