Product Specification
Category
: Home Appliances > Cooling and Heating > Fans
Brand
: Not Specified
Model
: Not Specified
SKU
: PAN-FM14HW
Dimension (Lenght x Width x Height)
: 140.00 x 19.00 x 38.50
Weight(KG)
: 8.00
---
Product Description
Product Description

Cool and Comfortable, Always - Econavi Series

Ceiling fans create a strong airflow and also aid the circulation of cool air from air conditioning systems. Panasonic Ceiling Fans combine innovative technology with beauty contemporary designs.

Wide Coverage
• 56" fan size
• 4 Sweeping Blade
• Yuragi function
• Greater air delivery

Ease to operate
• LCD remote control
• 9 sequential speed selection
• 1-8 hour on/off and sleep timer

ECO-Friendly and Safety and Quality
• ECONAVI feature
• DC Motor Technology
• Enhanced safety features
• Durable blades (PPG material)
• Sleek and smooth design

Highlights

56" fan size
Idea for living room or bed room use.

4 Sweeping Blade
4 blade design technology for better air delivery.

ECONAVI feature
This intelligent microprocessor analyzes information from the sensor and adjust the fan speed to optimum conditions.

Energy Savings
ECONAVI with smart eco sensor Now has the abilities to detect and reduce energy waste.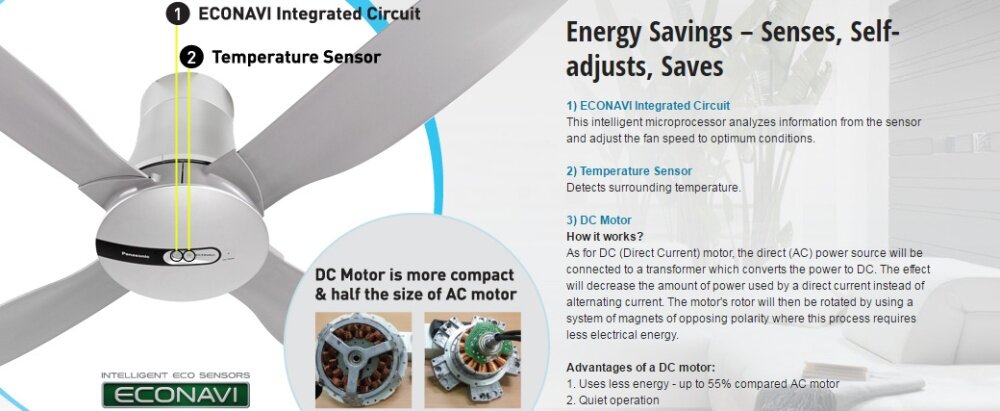 1 / f Yuragi feature
Providing you with a natural breeze from the comfort of your own home.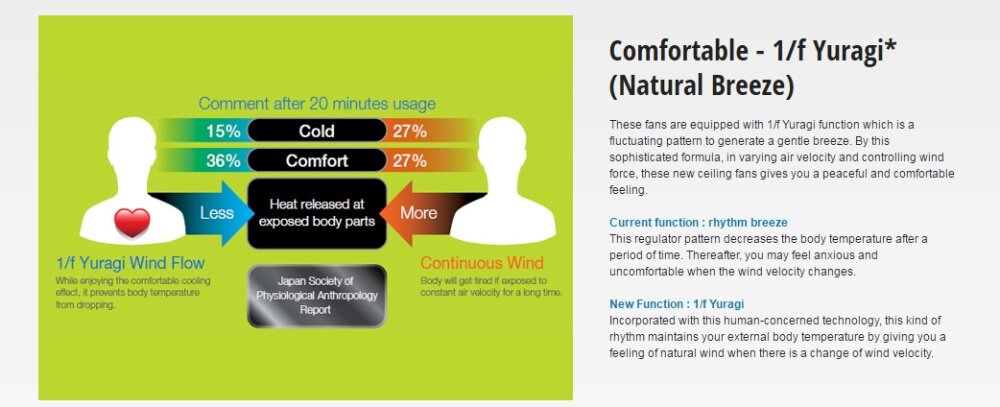 9 sequential speed
For consumer choose in different situation that their needed.

LCD Remote Control
LCD Remote control is maximum convenient to use.

5 Star Energy
5 Star Energy rated product.


Specifications of Panasonic Ceiling Fan LCD Remote Control F-M14HW

Technical specifications
•Fan size: 56" (140 cm)
•Power: Up to 41 W
•Fan Speed: 239 RPM
•Air Velocity: 185 m / min
•Air Delivery: 225 m3 / min

General specifications
•Blade: 4 blades
•Convenient: LCD Remote Control
•Speed setting: 9 sequential speed
•Energy Star: 5

Design
•Colour: Platinum Silver

Accessories
•1 x Remote Control

Dimensions
•Product Dimension (W x D x H) : 140.00 x 140.00 x 28.90 (cm)
* 1 year local supplier warranty
---