Product Specification
Category
: Home & Lifestyle > Lighthing > LED Light Bulb
Brand
: OSRAM
Model
: Parathom LED 11W Daytime Sensor
SKU
: Parathom LED 11W Daytime Sensor
Dimension (Length x Width x Height)
: 16.00 x 9.00 x 9.00
Weight(KG)
: 0.80
Manufacturing Country
: Not Specified
Warranty Type
: Warranty By Month
Warranty Value
: 1 Months
Warranty Description
: Against manufacturing defect only.
Ship From
: Kuala Lumpur
---
Product Description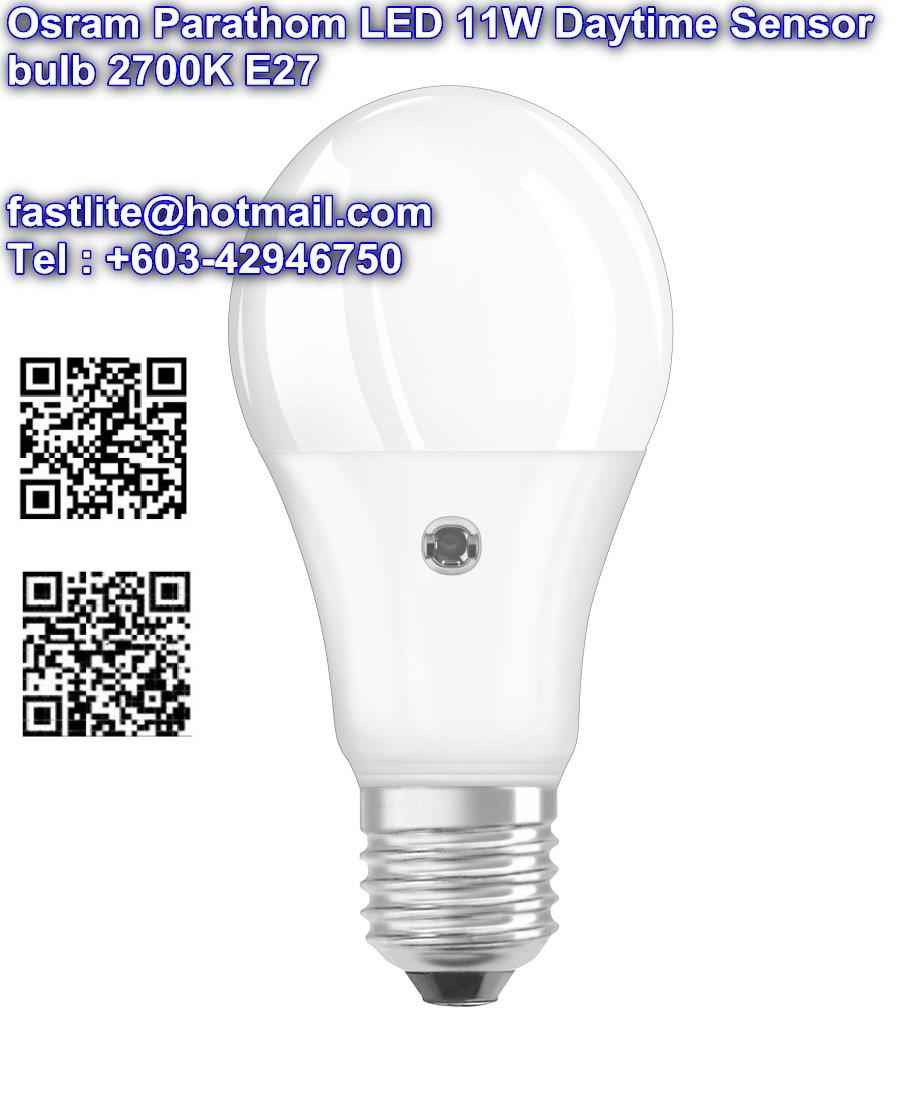 Please FOLLOW our store to get constant UPDATES of new products (especially on Lighting product updates). We are master stockist for Philips, Osram, GE, Maquet, Ushio, Sylvania lamps & electronic ballasts.
FASTlite - Master stockist in Malaysia for Philips, Osram, GE, Hanaulux Blue, Dr Fischer lamps.
www.fastlite.com.my
www.shopee.com.my/jameskl (Best)
www.lazada.com.my/shop/fastlite
Product family benefits :
This LED bulb will turn light on automatically at night & turn off Daytime (Daytime Auto Sensor off lightbulb).
Night time - Auto turn "ON" the light by built-in Sensor.
Daytime - Auto turn "OFF" the light by built-in sebnsor
Osram Parathom LED 11W 2700K E27 Daytime Sensor bulb
Short payback period thanks to low energy consumption and maintenance costs
Energy-saving lighting solution thanks to automatic switch off at daylight, it will automatically turm on night time
Safety through automatic switch-on at darkness
Very long lifetime of up to 25,000 hours
Low energy consumption, Classic bulb shape
Easy replacement of classic lamps thanks to compact design
Instant 100 % light, no warm-up time
Light sensors detect daylight on the basis of the spectral distribution
Areas of application :
Outdoor applications only in suitable luminaires,

eg Car Porch, Kitchen area, house back yard.

Wherever constant lighting is necessary at night
Wattage : 11W
Color : 2700K Warm White
Lumen : 1055 lm (Equivalent normal GSL 75W)
Voltage Input : 220-240VAC