Product Specification
Category
: Health & Beauty > Hair Care > Hair Accessories
Brand
: Not Specified
Model
: Not Specified
SKU
: 22
Dimension (Length x Width x Height)
: 50.00 x 50.00 x 50.00
Weight(KG)
: 1.00
---
Product Description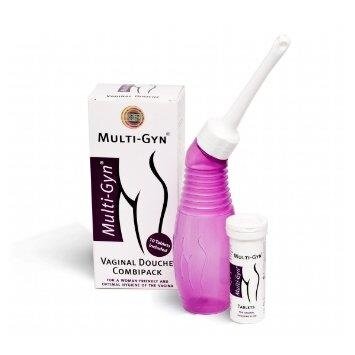 this combipack contains : 1 reusable Douching apparatus & 10 natural anti-bacterial-like dissovable tablets for washing
A female friendly, optimal hygiene of the vagina
Flushes clean, efficiently and gently
A special membrane that prevents the build-up of pressure and prevents suck-back of fluid
Has a female friendly and ergonomic shape
Can easily be used in any desired position
Has an optimal douching-effect, because the applicator flushes forward and sideways
Smooth canula of flexible medical plastic
Handy squeeze-bottle with adjustable application angle
Ideal in combination with Multi-Gyn Tablets
For a woman friendly and optimal hygiene of the vagina
Excellent for intensive intimate hygiene
Helps to prevent vaginal infections
Optimizes the vaginal flora
No preservatives, supports Lactobacilli
Relief of undesirable vaginal odor and discharge
Absolutely safe, no harmful side-effects
For use in combination with the Vaginal Douche
Multi-Gyn Tablets create a concentrated purely herbal vaginal douching fluid that is aimed at the relief and prevention of complaints such as itch, burning and excessive and/or malodorous discharge. The Tablets are placed in the douching flacon that is filled with luke-warm water. Since they are effervescent tablets they dissolve quickly and 1 tablet is enough for 1 application.
Multi-Gyn Tablets create a fluid that is mildly cleansing and soothing. It stimulates a healthy vaginal environment and the growth of lactobacilli. It can also be applied for the cleaning of the intimate parts and for a hip bath. Multi-Gyn Tablets are absolutely safe, preservative-free and natural. They do not contain hormones or toxic substances and have no harmful side effects.
Directions for use

The frequency of douching depends on the individual condition of the vagina (some women are more susceptible for infection than others), the life style, (unprotected) sexual activity, the menstruation etc.


For a good vaginal hygiene it is usually sufficient to use the
Multi-Gyn Vaginal Douche 1 x per week.

When there is a need for extra vaginal hygiene e.g. during menstruation or for the prevention of vaginal discomfort, 3 x per week douching frequency will be sufficient (once every other day).

For the relief of vaginal problems and for the support of the treatment of a vaginal infection it is advisable to douche 2 x per day during 5 days.

After vaginal douching, we advise you to use an acid gel like
Multi-Gyn ActiGel to re-establish the natural vaginal balance.
---