Product Specification
Category
: Health & Beauty > Bath & Body > Body Soap & Shower Gel
Brand
: Not Specified
Model
: Not Specified
SKU
: livewellostesamin
Dimension (Length x Width x Height)
: 30.00 x 29.00 x 50.00
Weight(KG)
: 9.06250
---
Product Description
The Trusted & Effective 2-in-1 Formula with Glucosamine + Chondroitin To Relieve Joint Pains & Osteoarthritis
?????????????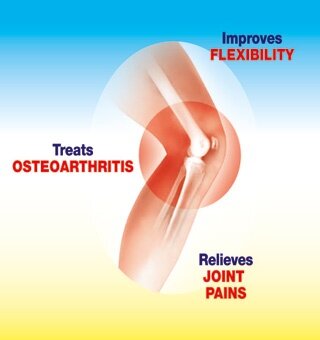 Osteoarthritis, the wearing away of the cartilage in the joints, is the leading cause of pain and disability. Glucosamine helps to build and repair cartilage - reducing joint pain and improving ease of movement.

The GAIT (Glucosamine/Chondroitin Arthritis Intervention Trial) Trial conducted by the National Institute of Health (NIH), USA was published in the February 2006 Issue of theNew England Medical Journal (NEMJ). It is the most rigorous trial to date assessing the effects of Glucosamine + Chondroitin in knee pain associated with Osteoarthritis. This trial was a six-month, multi-centre, double blind, placebo controlled involving 1,583 patients with symptomatic Osteoarthritis of knee.

RESULTS of study: Highest Reduction in Pain for MODERATE to SEVERE OSTEOARTHRITIS was seen in those taking Glucosamine + Chondroitin Combination.

The GAIT trial has proved that these 2 supplements in combination are even more effective in treating moderate-to-severe OA knee pain than Celecoxib, a COX-2 Inhibitor.

Suitable for those with dietary restrictions to bovine (beef) ie. Hindu, Buddhist etc. because the ingredients glucosamine and chondroitin are from seafood.

WHO WILL BENEFIT
Those suffering from moderate-to-severe Osteoarthritis (OA) - especially of the knee
HOW TO TAKE
TAKE 1- 2 CAPSULES 2 TIMES A DAY OR AS DIRECTED BY YOUR DOCTOR
USAGE
As adjunctive therapy for moderate to severe Osteoarthritis
Build and Repair Cartilage
Decrease Joint Pain and Tenderness
Active Ingredients Per Capsule
Strength
Glucosamine Sulphate
Potassium Chloride (Sodium-free)
375 mg
Chondroitin Sulphate
200 mg
---