Memiliki anak-anak yang comel memang satu anugerah. Namun mendidik mereka bukan calang-calang cabarannya. Tambahan pula apabila anak-anak sudah mula petah bercakap dan sudah bijak berfikir. Sekiranya ibu bapa tersalah langkah dalam mendidik anak-anak, pendekatan negatif seperti menghukum, memukul, menengking, dan sebagainya akan dianggap sebagai pendekatan yang efektif.
Menerusi buku How To Talk So Kids Will Listen & Listen So Kids Will Talk Edisi Bahasa Melayu ini, ibu bapa akan lebih memahami kaedah yang betul tentang cara mendidik dan mendisiplinkan anak seperti :
Membantu Anak Mengendalikan Perasaan Mereka

Mewujudkan Kerjasama

Alternatif Selain Hukuman

Galakan Berdikari

Pujian

Bebaskan Anak Daripada Memainkan Peranan

Menggabungkan Semuanya Bersama
Anak-anak ibarat kain putih, sebagai ibu bapa yang bertanggungjawab mencorakkan kehidupan mereka, ambil masa dan sentiasa berikan usaha terbaik dalam mendidik supaya mereka tidak membesar dengan sia-sia.
ISI KANDUNGAN
Pengenalan
Bab 1: Membantu Anak Mengendalikan Perasaan Mereka
Bab 2: Mewujudkan Kerjasama
Bab 3: Alternatif Selain Hukuman
Bab 4: Galakan Berdikari
Bab 5: Pujian
Bab 6: Bebaskan Anak Daripada Memainkan Peranan
Bab 7: Menggabungkan Semuanya Bersama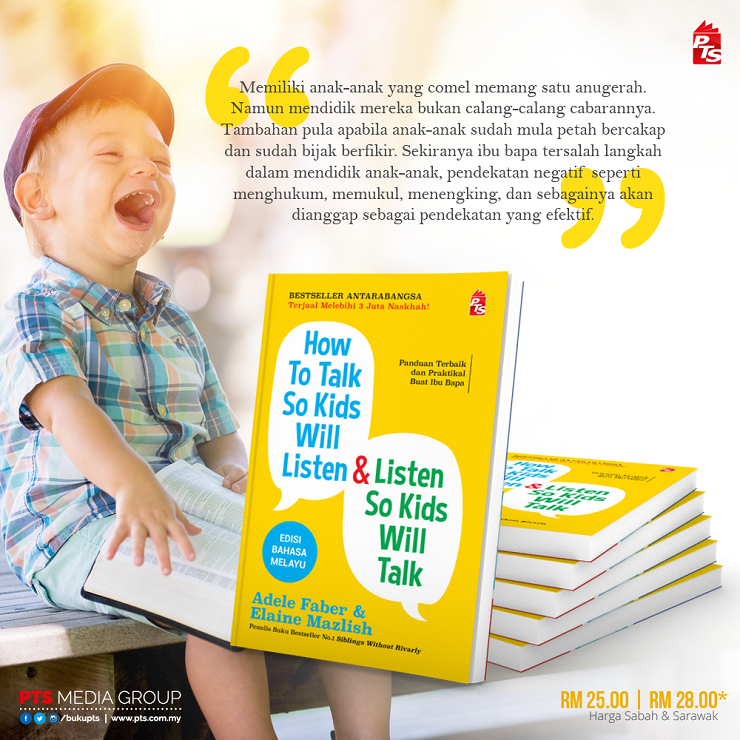 REVIEW BUKU
Cetakan Pertama Habis Terjual. Kenapa Buku Ini Sangat Laku Keras?
oleh Asri Yussof
Buku How To Talk So Kids Will Listen & Listen So Kids Will Talk adalah karya terjemahan dari Scribner yang berpusat di New York. Buku ini ditulis oleh Adele Faber & Alaine Mazlish dan diterjemah ke dalam bahasa Melayu oleh Nora Herni Abd. Rahim
Ramai yang tertanya-tanya kenapa buku ini menjadi begitu laris? Jawapannya adalah kerana kandungan buku ini berbeza dengan kandungan buku-buku lain yang ada di pasaran buku Malaysia yang mengetengahkan aspek 'parenting'.
Kebanyakan buku tentang parenting selalu bercakap mengenai hukuman bukan mengenai cara berkomunikasi dan berinteraksi.
Berbeza dengan How To Talk So Kids Will Listen & Listen So Kids Will Talk. Buku ini memberitahu kepada semua ibu bapa, mereka perlu berbeza di rumah.

Ibu bapa sering menafikan perasaan dan pendapat anak-anak. Sebenarnya, hal ini akan cenderung mengelirukan dan membuatkan anak cepat marah dan berang dengan kita.
Contoh penafian yang sering dilakukan oleh para ibu bapa kepada anak-anak mereka, adalah seperti ini:
"Mak lebih makan garam daripada kamu"

"Kamu hanya cakap begitu sebab kamu tidak faham lagi erti kehidupan"

"Pergi buat kerja sekolah, kalau tidak belajar bersungguh, nanti besar hidup merempat"
Sedar atau tidak, sebenarnnya kenyataan-kenyataan sebegini menanam satu perasaan yang dalam dan dipendam oleh anak-anak. Untuk jangka masa yang panjang ia boleh menjadi sesuatu yang bakal mengejutkan kita.
Sebenarnya, buku ini diterbitkan pada tahun 1982 lagi dalam versi bahasa Inggeris dan diterbitkan semula dengan kulit buku baru yang anda pegang sekarang pada tahun 2012 sempena ulang tahun ke-30.
Penulis buku ini, Adele Faber dan Elaine Mazlish adalah pakar antarabngsa terkemuka dalam bidang komunikasi antara orang dewasa dan kanak-kanak. Mereka berdua berjaya memenangi penghargaan ibu bapa dan pengiktirafan penuh dalam bidang ini.
Adele Faber merupakan merupakan graduan dari Queens College. sebelum memulakan kerjaya sebagai konsultan dalam bidang kekeluargaan, beliau bertugas sebagai guru di New York City High selama lapan tahun.
Elaine Mazlish merupakan graduan dari Universiti New York dalam bidang Sains. Selain menulis, beliau juga merupakan pengarah program kanak-kanak di Grosvenor House dan Lenox Hill Settlements.
Buku berjudul Sibling Without Rivalry dan How To Talk So Kids Will Listen & Listen So Kids Will Talk yang ditulis oleh mereka berdua terjual lebih 3 juta naskhah dan mendapat julukan 'The Parenting Bible'.