Product Specification
Category
: Automotive & Motorbike > Automotive > Car Electronics Accessories
Brand
: Not Specified
Model
: Not Specified
SKU
: FOLDABLEORGANISER
Dimension (Length x Width x Height)
: 10.00 x 10.00 x 10.00
Weight(KG)
: 0.50
---
Product Description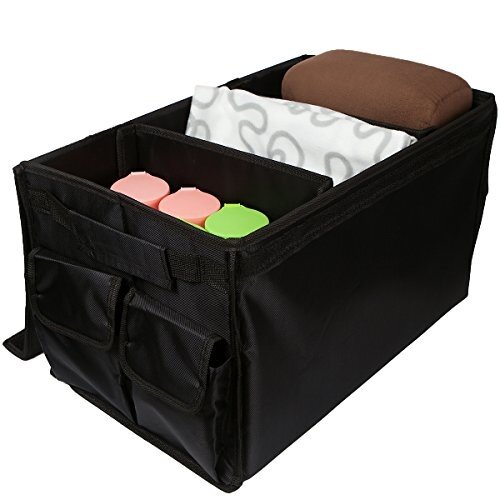 Cargo Trunk Organizer,LUSAF Car Trunk Cargo Auto Organizer Multipurpose Heavy Duty Deluxe Folding Caddy Storage Collapse Bag Bin for Car SUV Minivan Truck Indoor and etc(Black)
Product Description

Features
STRONG triple layer waterproof 100% nylon/rubber bottom
Extra thick Mesh/poly cloth pocket outside end
Strong plastic moveable bottom for added support
Strong thick stitching
Water resistant

Benefits
Can easily store your shopping bags and prevent your groceries from rolling around your trunk.
Folds up when not in use
Can easily drop in your groceries then carry straight into your house
Finally, a way to organize your trunk, especially when food shopping with those cheap plastic bags
Sides are strong and durable, can easily fit extra bottles of windshield fluid, oil or car washing supplies

Don't get stuck with a cheap, short lasting trunk organizer!!!
The Only Organizer That Comes With A Lifetime Warranty! Simply Put - We want the purchase to work for you. If for any reason this product is not meeting your expectations, just send us a note and we'll be happy to take care of you.
Feature
Triple reinforced polyester and rubber bottom cargo storage means it is waterproof and will not fall apart like all other cardboard bottom organizers. Strong thick nylon handles will never tear or break like most other backseat bins.
Perfect super strong thick stitching will ensure you can carry loads up to 50lbs without breaking, tearing or ripping. Carry groceries into your house without them spilling. Large load capacity. Load tools and sporting goods. Thicker than ballistic nylon with rugged plastic side inserts. This interior container easily stands up on its own and can also be used for backseat storage. Fits easily into all trunks and backseats of any Lexus, BMW, Mercedes and minivan.
It could not be easier simply unfold the organizer, push down the solid bottom inserts and instantly you have plenty of room to store anything you want to keep clean and organized in your car, truck or suv.
Lifetime warranty we guarantee you will be 100 percent satisfied with our product. Lusaf is so confident you will love their products, if you're not completely satisfied you'll be offered a prompt refund or replacement, no questions asked. We will honor this for all purchases made from FLAGPOWER. We love using this organizer and you will too.
Triple AAA elite quality not all car trunk organizers are created equal though many of them look alike. Highest quality walls. Avoid cheap copies that will break the next day. There is no other automotive trunk organizer built as good as this item. Simply the best organizer For the money and is perfect for groceries, golf, baseball gear, camping, emergency equipment, cleaning supplies and tools. Superb for travel and long trips. Included is a strong reuseable storage bag for when not in use.

Product Dimensions(LxWxH) : 50x32x6cm ; 1724 g
Package Dimensions(LxWxH) : 51x35x4cm ; 1724 g
No Warranty Foldable Car Multipurpose Storage Bag Cubby Box Organizer Folding Pocket Travel Tool Container Bags Box Styling Not Specified foldable storage
---