Brand-Einhell Model-CLEANINGCOMBO Local Supplier Warranty-1 Year Package Content-1 x Einhell Cleaning Combo: High Pressure Cleaner + Wet/Dry Vacuum Cleaner
High Pressure Cleaner
Description:
The high pressure cleaner TC-HP 1334 is a high-quality and powerful pressure cleaner which proves its strength especially during mobile works and because of its small and compact construction. Ambitious cleaning works everywhere in the garden, yard or garage can be executed quickly, comfortably and thoroughly due to 1,300 Watt and a 3 m long high pressure hose.
Due to an integrated 0.45 litre detergent container, even special tasks like washing your car or cleaning facades can be solved comfortably. The integrated central handgrip and the light weight of only ap.4.2 kg, which allows to carry the high pressure cleaner including accessories comfortably, cares for maximum mobility and simple transport. With its maximum pressure of 100 bar, this cleaning device produces a jet which removes even persistently adhering dirt reliably.
The various nozzles and high pressure top parts can be changed quickly and simply by means of the modular jet-click system. To have them available at any time, there are practical stowage possibilities directly at the device. Additionally, this device can also be stowed in a place-saving way due to its compact construction. The easy accessories package is included to the kit.
Video:
Appeal:
Small compact construction
Place-saving storage
Central carrying handle integrated
Ideal for mobile applications
Modular Jet-Click system for versatile applications
Versatile storage options for nozzles, pistols etc.
Easy package included:
pistol, lance, rotating nozzle, detergent tank, hose
Logistic info:
Length 250 mm
Width 210 mm
Height 470 mm
Gross weight single packaging 6.41 kg
Product weight 4.25 kg
Technical info:
Mains supply 220-240 V 50 Hz
Mains supply 220-240 V 50 Hz
Power 1300 W
Permissible pressure 100 bar
Max. rated pressure 70 bar
Delivery rate 340 L/h
Max. water temperature 40 °C
Max. inlet water pressure 6 bar
Length of high-pressure hose 3 m
Detergent tank 0.45 L
Images:
Product spareparts:
Wet/Dry Vacuum Cleaner
Description:
The TH-VC 1820 S wet and dry vacuum cleaner is a versatile, powerful all-rounder for simple wet and dry cleaning jobs, and should not be missing in any household. Its easy-to-clean stainless steel tank has a capacity of 20 liters for devouring coarse or fine, wet or dry dirt and even liquids.
A 1250 W motor supplies not only a good level of suction power but also enough pressure to a blow connector for the user-friendly blow-cleaning of inaccessible areas. The TE-VC 1820 S comes with a 36 mm suction hose, a three-piece plastic suction pipe, a large suction nozzle with combination insert for carpets and smooth flooring, and a crevice nozzle. A dirt bag makes a clean affair of vacuuming up fine dust.
A foam filter protects the motor against soiling during wet vacuuming. A float switch interrupts the suction power automatically when the maximum level is reached. Holders for the cable and accessories enable all parts to be stored away quickly and neatly directly on the cleaner itself. For user-friendly handling there is a carry-handle and four smooth-running castors.
Video:
Appeal:
20 l tank made of stainless steel
4 castors for better mobility
Carry handle and cable holder
Blow connector
Space saving accessory mount
3-piece plastic suction pipe
1 suction hose 36 mm
Large suction nozzle with combination insert for wet and dry vacuuming of floors
Crevice nozzle
1 dirt bag
1 foam filter for wet vacuuming
Logistic info:
Length 326 mm
Width 323 mm
Height 460 mm
Gross weight single packaging 5.52 kg
Product weight 4.22 kg
Technical info:
Power 1250 W
Max. suction power 18 kPa
Suction hose length 150 cm
Suction hose diameter 36 mm
Vessel capacity 20 L
Sound power level LWA 80 dB (A)
Mains supply 230 V 50 Hz
Images: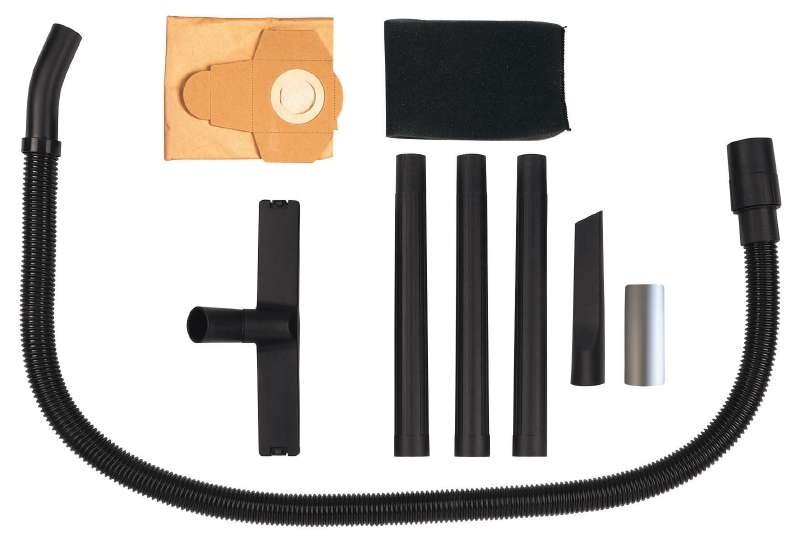 Product spareparts: