Product Specification
Category
: Automotive & Motorbike > Auto Care > Polishing & Rubbing Compounds
Brand
: Not Specified
Model
: Not Specified
SKU
: bench sander
Dimension (Length x Width x Height)
: 5.00 x 5.00 x 5.00
Weight(KG)
: 21.00
---
Product Description
This brand new Bench Sander with 150mm disc is used for sanding smaller surfaces, adjustable sanding belt for flexible use, dust-proof switch for extra long life span, mitre guide and adjustable working table for precise working. The disc sander allows you to easily remove the splinters and jagged edges off your wood projects and lumber with either a 4-by-36-inch belt or a 6-inch disc. The belt also tilts anywhere from 0 to 90 degrees to accommodate the needs of your particular workpiece while the heavy cast-iron base prevents vibrations.

Operation
The machine may only be used if it is in perfect working order. lf the machine or part of the machine is defective, have it repaired by a specialist.
Always comply with the all applicable domestic and international safety, health, and working regulations.
The machine may only be taken into operation when a check detects no faults. lf a part is defective, it must be replaced before the machine is used again.
When operating the machine ensure that the area you are working is clean and tidy.
When working with the machine make sure the area is well lit.
Make sure that flammable materials or materials that may explode are kept out of the immediate vicinity.
People under the age of 18 and people not sufficiently familiar with the operation of the machine should not be permitted to operate it.
People who do not have the physical, mental or sensory abilities to operate the machine carefully and safely may not be permitted to use it.

Application:
It is a great helper to any workshop or woodworker's garage,and it features a safety switch with miter gauge and a cast aluminum work table that tilts for added versatility.
Powerful 1/2 HP motor
6" disc for fast stock removal
Adjustable belt tilts anywhere from 0° to 90°
One sanding belt and one sanding disc included
Miter gauge for sanding angles on workpiece
Adjustable belt sands inside and outside curves
Sheet metal motor housing
Sturdy sheet metal base prevents any heavy vibrations
Tension release lever provides for simple changes to sandpaper grit
4" x 36" sanding belt, 100-grit
Worktable tilts 0° to 45°
4 rubber foot pads minimize vibration
Durable die cast and machined aluminum frame
Specification:
Condition: Brand new
Voltage:220V/3.1A
Motor power: 375W
Horsepower: 1/2hp
No load speed for sanding disc: 1420/min
Belt size: 915×100mm (36" x  4")
Disc diameter: 150mm (6")
Worktable size: 188×125mm (7.4" x 5")
Worktable tilt: 45°
Base size: 320×165mm (12.6" x 6.5")
Packing size: 48.5×30×27cm (19"x 11.8" x10.6")
Gross weight: 15kg (33lbs)
Net weight: 14kg (31lbs)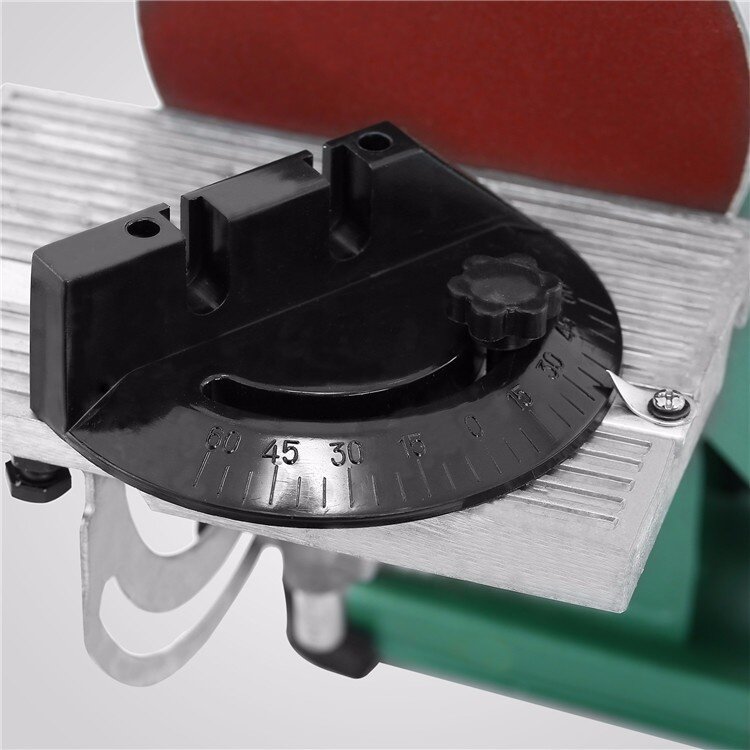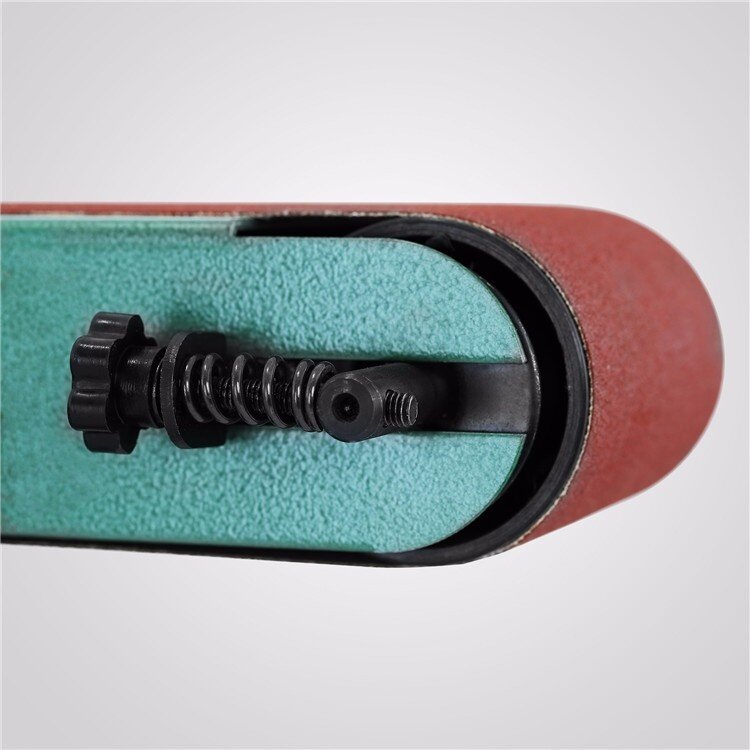 ---