Description
3M, a global leader in Residential water filtration with over 50 years of filtration experience, continues to provide revolutionary products in user friendly designs. Our trusted Drinking Water System (DWS) utilizing our unique Integrated Membrane Pre-Activated Carbon Technology ("IMPACT"), is conveniently installed under your sink to deliver better tasting water straight from your tap. Made with FDA* CFR-21 compliant materials, the DWS ensures safety for you and your family. Now you can get cleaner, clearer water on demand for drinking water, coffee, cooking (rice, noodles) and cleaning.
A modern, compact design that looks good and indicates when it is time to change the filter (Smart technology!), the 3M DWS2500T-CN system reduces unwanted contaminants such as sediment, turbidity, chlorine taste and odor that may be present in your tap water. It can also effectively reduce harmful contaminants, such as lead, mercury, volatile organic chemicals, protozoan cysts and bacteria that may enter your water stream from piping and other sources. 3M DWS2500T-CN Systems reduce up to 99.99% of undesirable and harmful contaminants, bringing to you and your family cleaner, clearer, better tasting drinking water!
*FDA - U.S. Food and Drug Administration
Products
Drinking Water Systems with Dedicated Stylist Faucet
Delivering fresh-tasting filtered water to you from its dedicated, elegant drinking faucet.
Model DWS2500T-CN
Capacity - 2,839 litres (750 gallons)
Flow Rate - 2.84 lpm (0.75 gpm)
| | |
| --- | --- |
| | Tested & Certified by NSF/ANSI Standard 42 and 53 |
| | Easy change cartridge in less than 10 seconds |
| | Cartridge life monitoring system |
| | Enhanced kitchen outlook with stylish faucet and LED light indicator |
| | Inhibit bacterial growth inside filter |
| | Reduces up to 99.99% bacteria |
Stylist Drinking Faucet with Cartridge Change-Out Indicating Lights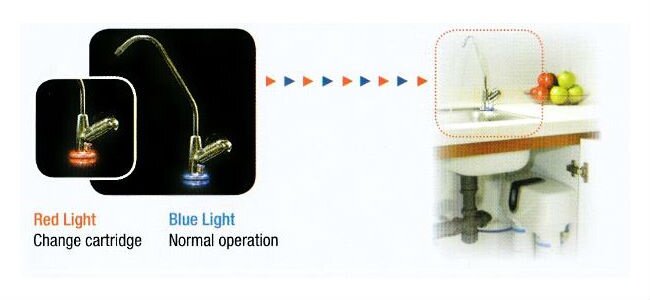 ¹NSF/ANSI Standard 53 ²Measured with E-coli
Smart Monitoring System To Indicate Cartridge Life
Sanitary Quick Change Design
Equipped with intelligent tracking devices, 3M DWS2500T-CN Systems monitor your water usage and provide both visual and audio alarm for cartridge change.
With an effortless twist, you can easily change cartridges in less than 10 seconds with absolutely no mess.
Cartridge Selection Guide

²Measured with E-coli
Standard 42 & 53

*NSF International is an independent lab that ensures all drinking water systems are tested and certified to meet strict public health and safety standards

NSF/ANSI Standard 42

Designed to reduce taste and odour, chlorine, nominal particulate which increases lead level in bloodstream as well as causing respiratory problem such as asthma.

NSF/ANSI Standard 53

Reduces specific health-related contaminants such as lead, pesticides and cysts which cause diarrhea, nausea and low grade fever as well as being potentially fatal.
Replacement Cartridge
PFS2500-C-CN
DWS2500-C-CN

Specifications
Inlet/Outlet Size: 3/8" push in tubing
Flow Rate: 0.75 gpm (2.84 lpm)
Micron Rating: 0.2 micron
Capacity: 750 gal (2,839 L)
Dimension: 400mm (H) x 280mm (W) x 145mm (D)

Removal Capability
Sediments
CTO (Chlorine Taste Odor)
99.99% Protozoan Cyst
99.99% Water-borne Bacteria
Lead
Mercury
Full VOCs (Volatile Organic Chemicals)
3M Advantage
With over 50 years of experience in filtration technology, 3M Purification is a leading filtration solution provider in a wide range of markets. Our filtration solutions are used for even the most demanding and challenging process applications in pharmaceutical laboratories, manufacturing facilities and restaurants. Now, with the 3M Water Filter Systems, you can also experience the superior quality delivered by our products right at home.
* 1 YEAR LOCAL SUPPLIER WARRANTY